WEDDING PHOTOGRAPHER THE BREAKERS HOTEL WEDDINGS
The wedding mecca of Palm Beach. A Special wedding venue for wedding photographers
About the Breakers
The Breakers is a historic hotel that occupies 140 acres along the Atlantic ocean in Palm Beach, Florida. This iconic hotel was built by Henry Flagler to accommodate travelers on his Florida East Coast Railway. The Breakers is known as one of the most opulent locations to hold a wedding and events in South Florida. The Breakers hotel has to be seen to be believed, and you will immediately feel the wealth as you walk through the doors of this beautiful hotel.
My Breakers Experience
I was inspired to write about the Breakers hotel because of a personal experience there yesterday on Saturday, April 12, 2015. I am bless to have a brother that lives a lifestyle that allows him to be a part of an elite group of individuals that socializes, mingles and plays among the rich and famous of Palm Beach Island. As a director of a high end art gallery on Palm Beach island he has developed relationships, and has become welcomed to many social and philanthropic events with he who's who of Palm Beach. Thank goodness he's a humble and creative young man that views this as just a part of business and although he dresses the part, he just an average joe working to give his children and family the best he can.
The Breakers epic architecture!
While I was having a cocktail with my brother, I was taking in the architecture and beauty of this magnificent hotel and saw why a someone would want to be married and celebrate their wedding day at such a grandiose location. I also realized how much my style of photography would make me an ideal choice as a Breakers Wedding photographer.
My style of elegant composition, creative posing and artistic use of light and shadows would allow me to create truly amazing images that capture the essence and beautify of my bride and groom. In discussion with my brother who is also an artist, we came up with several points that would be required for a Breakers Wedding Photographer to be successful. We also figured out what a bride or groom needs to look for in a Breakers Wedding Photographer to receive the service and have her photographic expectations met. So here they are below.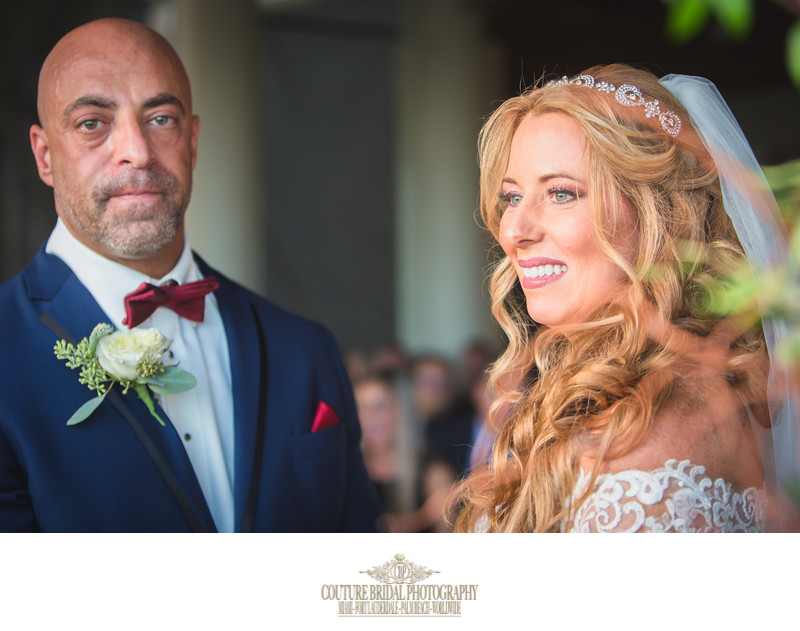 A Breakers Wedding Photographer can't be a natural light photographer
The Breakers Wedding Photographer has to be well versed in artificial lighting using flash and video light. The lighting in the Breakers is ornate and dim to add to the ambiance and architecture. There is really no way to get creative images that pop inside without the use of creative flash and video lighting. Couture Bridal Photography, as a Breakers wedding photographer uses artificial and ambient lighting to create dramatic and artistic images that tell a story. Being a capable Breakers Wedding Photographer involved lots of training, education and experience photographing in low light situations. Alfredo Valentine owner and principal photographer of Couture Bridal Photography has the skill necessary to create beautiful images in any lighting conditions.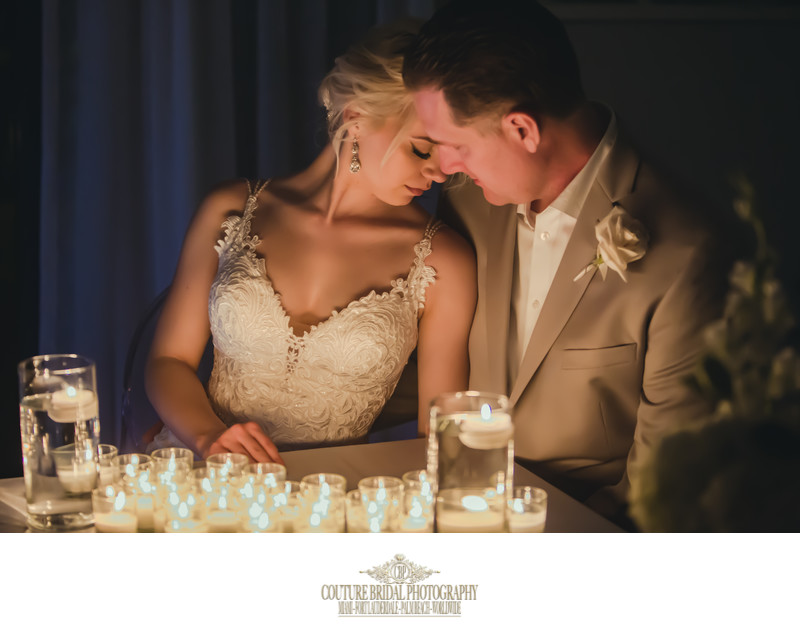 Personality
When choosing from a Breakers Wedding Photographer its important to meet with them and discuss your wedding plans, and your vision of your big day. You want to get to know your Breakers Wedding photographer and choose the one you get along with best and who you'll be comfortable with throughout your day. Your Breakers Wedding Photographer is going to be with you the most throughout the day capturing your story as is happens, and you should feel very comfortable with them as you go throughout your day and in your interactions with family and friends.
Pricing
The investment you make to cover your wedding day will vary greatly among Breakers Wedding Photographers depending on how many hours of coverage you choose. The prices a Breakers Wedding Photographer charges for wedding coverage start from $4,000.00 all the way to $30,000 depending on the options or packages you choose. The pricing a Breakers Wedding Photographer charges is based on years of experience, their perceived value, and their operational overhead.
Typically a Breakers Wedding Photographer that operates out of studios charges more, as their operational costs are higher. Couture Bridal Photography operates out of Alfredo Valentine's home and he meets with clients by appointment there to display his photography prints, GraphiStudio Photo books and slide show presentations. This very personalized in-home service makes Couture Bridal Photography the best value for a Breakers Wedding Photographer, since you're not paying more to cover Couture Bridal Photography's operational costs for a separate business location.
Number of Breakers Wedding Photographers
Most Breakers weddings require at least 2 wedding photographers for appropriate coverage. You want your Breakers Wedding Photographer to be able to provide 2nd and even 3rd photographers to make sure every aspect and detail of your Breakers wedding is captured. Of course this depends on the size and number of people attending and participating in your bridal party. Couture Bridal Photography is among the Breakers Wedding Photographers that has 3 photographers available for either one event or multiple events if there are multiple requests for our services on one given day. Couture Bridal Photography does not count assistants as additional photographers like many other Breakers Wedding Photographers do, and we provide assistants for each photographer.
Coverage
Breakers Wedding Photographers offer various coverage options. Make sure that the Breakers Wedding Photographers you choose offer the amount of coverage you will need to cover your day. Most brides chose to have their whole day covered, so that no detail or moment is missed. Many Breakers Wedding Photographers offer really low pricing for their coverage, but don't offer enough time at those low rates. Make sure they offer the average wedding coverage from 8-10 hours, which is the average time needed to cover a complete wedding day.
Most Breakers Wedding Photographers will offer more time if you request it but at a really high additional rate. We at Couture Bridal Photography make sure we plan your wedding day way in advance and perform a walk through prior to the wedding day, so that you get the coverage you need for your specific wedding. Couture Bridal Photography also won't penalize you if you need more time, we charge additional time based on the original rate of coverage unlike other Breakers Wedding Photographers who charge an overtime fee.
Heirloom Photo Books
Couture Bridal Photography is one of the few Breakers Wedding Photographers that offer GraphiStudio photo books. GraphiStudio photo books are known around the world at the finest books with the most cover and paper options and the finest leathers and materials. GraphiStudio photo books are hand made in Arba, Italy by Italian Artisans, and the books carry lifetime warranties. Additionally, GraphiStudio only chooses the best photographers to design and sell their products, making Couture Bridal Photography one of the very few Breakers Wedding Photographers to carry that distinction. Couture Bridal Photography is an exclusive partner with GraphiStudio and are the only photo books we sell.
Many Breakers Wedding Photographers sell photo books, but they sell lower quality books at high prices. These books are inferior to GraphiStudio books and although the look nice, a closer look at the materials and craftsmanship vs. that of a GraphiStudio book can be easily seen. This is another way to distinguish between artistic, creative and professional photographers among Breakers Wedding photographers to make sure you have the best experience, best photography, and value for your investment on your wedding day.
Conclusion
Couture Bridal Photography is a professional Breakers Wedding Photographer personally owned business with the desire and ability to please their clients. We don't have hidden costs and all our wedding photography coverage time and rates are design and thought out to provide you with what you want and how you want it. We also add value to your investment by providing beautiful GraphiStudio photo books in every wedding photography package, so that you can display your wedding day story for generations to follow. We are also proud to offer among the best rates and business practices among Breakers Wedding Photographers and provide you with a stress free fun experience on your wedding day.
Couture Bridal Photography has been in operation from 2009 and provides wedding photography services throughout the United States, Hawaii, the Caribbean and Europe. Special rates apply for destination wedding photography services. Please visit us at www.CoutureBridalPhotography.com and www.Facebook.com/CoutureBridalPhotography
ABOUT COUTURE BRIDAL PHOTOGRAPHY
Elegant. Romantic. Timeless. We are a group of creative photographers in Broward County with a passion for storytelling. Founded in 2008, our studio has been recognized as the best Wedding Photographers in Fort Lauderdale and South Florida by various publications, websites, and groups. We'd love to meet with you anywhere in South Florida and show you our albums and other print photography products. We can also provide more information on our Wedding Cinematography and introduce you to our team!
Fort Lauderdale Wedding Photographer

Fort Lauderdale, Florida - (954) 399-0741 - mail@couturebridalphotography.com - Privacy Policy - Terms of Use - Copyright Alfredo Valentine © 2008-2020