ALFREDO VALENTINE: OWNER/PHOTOGRAPHER
I'm the owner and principal photographer of Couture Bridal Photography in Fort Lauderdale, FL
I am a South Florida photographer specializing in wedding photography, portrait photography and maternity photography.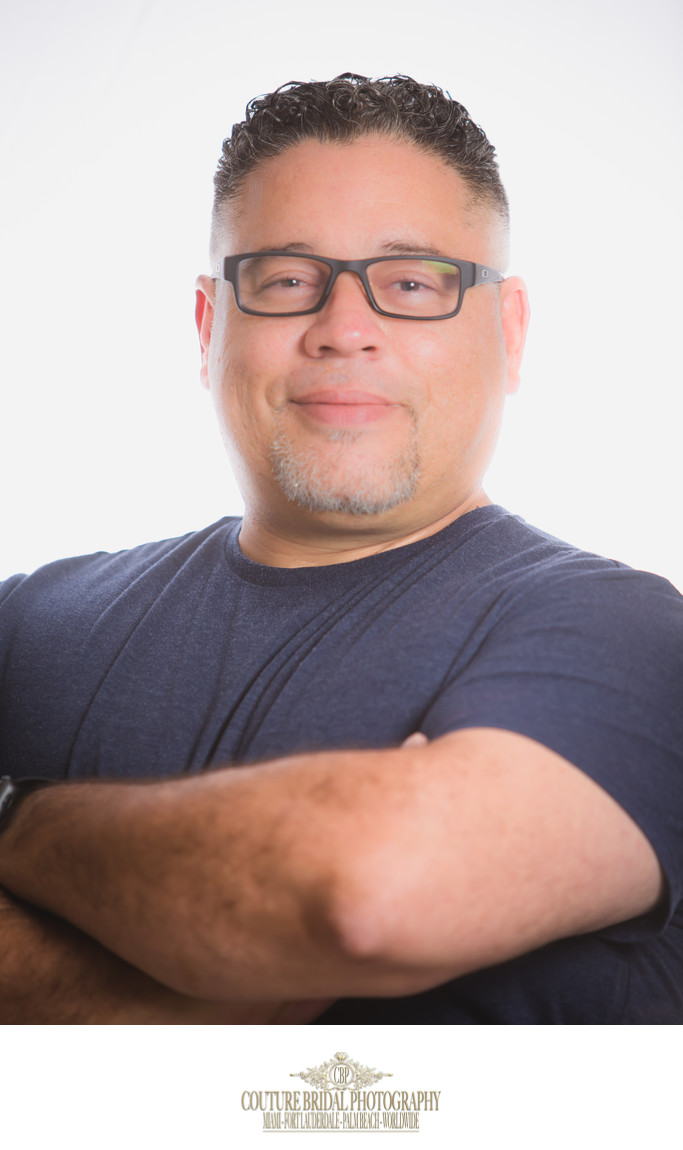 I'm well known for being fun, friendly, passionate, kind and taking amazing and spectacular photos at weddings in Fort Lauderdale, Miami and Palm Beach that tell a wedding day love story. My wedding photography has been described as elegant, romantic and timeless!
As your photographer, I can promise to capture and deliver the most spectacular wedding photos you'll ever see. Although, I'm a wedding photography specialist whether it's your wedding day, your maternity photography session, headshot photography or family portraits, they will capture you at your best and tell your unique story for a lifetime of memories.
My strengths are to help you feel relaxed and look your best in front of the camera, whether I'm taking pictures of you candidly or posing you.
My approach to photography is to create compelling story telling images without distractions. I use unique compositions and subject isolation for clean, crisp and sharp images that can be share and enjoyed for generations to follow. During your time with me, I will make you feel comfortable, make you laugh and provide an exciting and overall fun photography experience
Most people would say, I'm artistic and my photos are artistic in nature. The truth is, that a little of both is what makes me a unique and creative photographer. I use my skills to repeatedly create amazing images with my understanding of lighting, composition and posing. My artistry is putting those things together consistently to create beautiful images that tell a compelling story with
my unique style
and approach to photography.
I also tailor each session to each client, so your images are unique to you and your personality.
Your vision is just as important as you trusting me with mine!
PERSONALLY SPEAKING!
My friends would say I'm loyal, loving and caring. My brothers think I'm noble since I've spent the better part of 20 years in public service. First as a police officer for 10 years and firefighter/paramedic the last 10 years. I recently retired as a Lieutenant.
I spend my spare time teaching doctors, nurses, paramedic and other healthcare professionals American Heart association Basic life support, Advanced Cardiac Life Support, Pediatric Advanced Life Support and Trauma Life Support. I also teach a variety of other advanced medical proficiency classes as well.
So besides being a professional photographer, I am fully capable of saving a life in a variety of circumstances. I hope I never have to put my camera down to save a life, but if I have to, I will!
THE BEGINNING
I began my journey into photography at about 16 years of age. My dad came home with a Canon Rebel G film SLR. He said, "figure this thing out" and gave it to me. I spent a lifetime photographing my friends, family, family events and random things. Later in life, I would use my camera to document my children as they grew.
How I became a wedding photographer is a really long story, so ask me when we meet. I love to tell that story. Needless to say, I have been photographing weddings pretty much full time since 2008.
Please call me at 954-399-0741
or
ABOUT COUTURE BRIDAL PHOTOGRAPHY
Elegant. Romantic. Timeless. We are a group of creative photographers in Broward County with a passion for storytelling. Founded in 2008, our studio has been recognized as the best Wedding Photographers in Fort Lauderdale and South Florida by various publications, websites, and groups. We'd love to meet with you anywhere in South Florida and show you our albums and other print photography products. We can also provide more information on our Wedding Cinematography and introduce you to our team!
Fort Lauderdale Wedding Photographer

Fort Lauderdale, Florida - (954) 399-0741 - mail@couturebridalphotography.com - Privacy Policy - Terms of Use - Copyright Alfredo Valentine © 2008-2020