CONRAD FORT LAUDERDALE BEACH
WEDDINGS CONRAD FORT LAUDERDALE BEACH
The Conrad Fort Lauderdale Beach, located at 551 North Fort Lauderdale Beach Blvd. Fort Lauderdale, FL 33304, is a luxury condominium-hotel resort located on ocean-front property on North Fort Lauderdale Beach Boulevard in Fort Lauderdale, Florida. The resort includes 181 condo-hotel units, as well as 109 condominium units in a separate building known as The Ocean Resort Residences. The Conrad Fort Lauderdale Beach officially opened for business on October 10. 2017 with much fanfare, due to being the newest luxury hotel on Fort Lauderdale Beach, with extravagant amenities.
About a year after opening I was invited to an exclusive meet and greet of South Florida's top wedding vendors at the Conrad Fort Lauderdale Beach hosted by Modern luxury weddings. A handful of South Florida's top wedding vendors had the opportunity to tour the property and meet with the Conrad Fort Lauderdale Beaches catering and event sales staff. The Conrad's property allows for a variety of weddings from a small elopement in the penthouse suite to a gala sized wedding in its enormous grand ballroom that can host 300 or more guests. I was highly impressed with the Conrad Fort Lauderdale Beaches flexibility in hosting different types of weddings and I almost lost my mind over the outdoor terrace and pool area that is perfect for a starry night time wedding reception!
Getting hired for a wedding at the Conrad Fort Lauderdale Beach
My studio manager Sandra, who is also owner of Red Sand Studios received and inquiry from Terra, who would become our bride after hiring us for her wedding photography and wedding day hair and makeup services. She had found us during a Google Search for "Best Fort Lauderdale Wedding Photographer" from her home in Chicago, Il. Terra and Greg had decided that they wanted to get married at the Conrad Fort Lauderdale beach and wanted us to photograph their wedding day. After receiving a wedding photography contract and questionnaire, Terra hired us for her wedding day photography along with out hair and makeup team.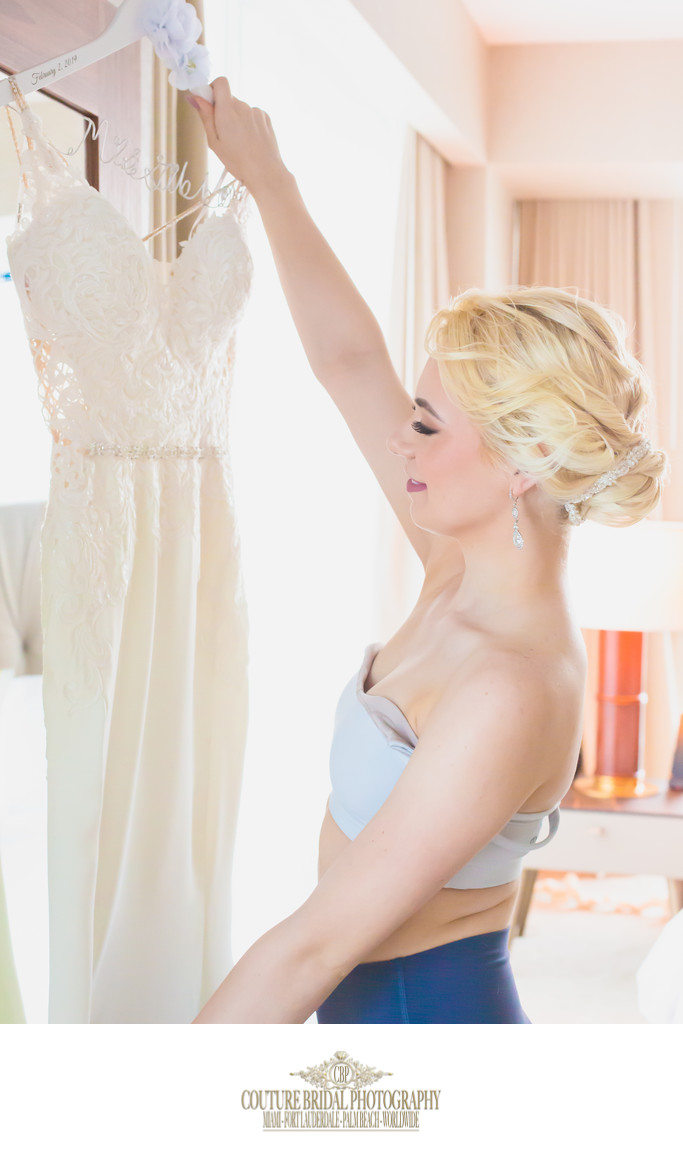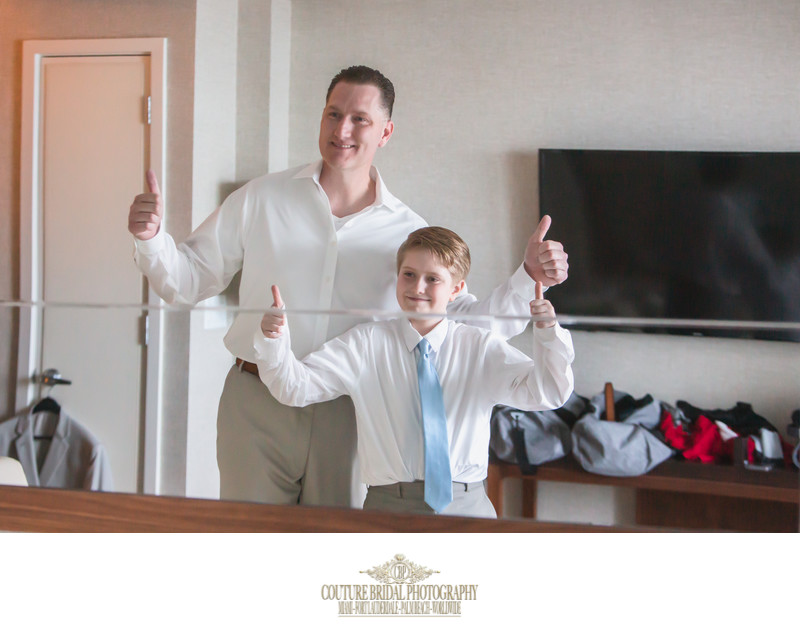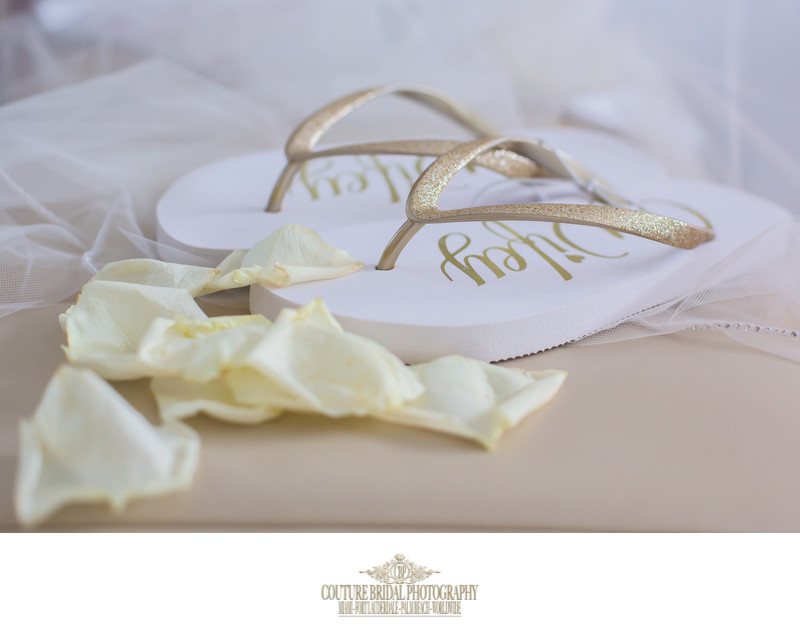 Terra & Greg's Wedding at Conrad Fort Lauderdale Beach
Terra and Greg decided to have a small intimate wedding with their family and friends at the Conrad on February 2nd, 2019. Their wedding was hosted in the Conrads Penthouse suite which had a wrap around balcony that provided ocean and downtown Fort Lauderdale views along with views to the north and south. An outdoor wedding ceremony on the balcony was to take place with dinner served indoors in the suites living room.
We began the wedding day with out team of hair and makeup artists, who arrived before us. Nicole and Ajele, our primary Couture Bridal Beauty stylists began to work on Terra and her step daughters hair and makeup while we arrived and set up to begin documenting Terra and Greg's wedding day.
As you can see above, we captured some images of Terra having her makeup and hair done by Couture Bridal Beauty. We then worked on detail images of the dress, rings and other important items from Terra's wedding day.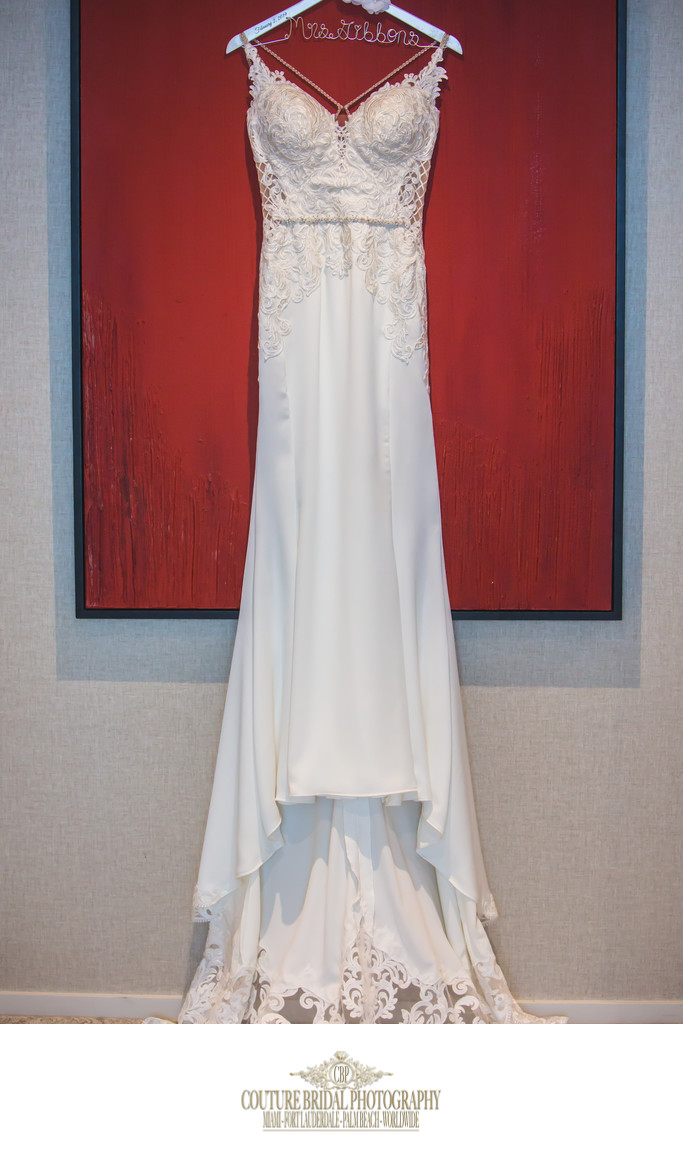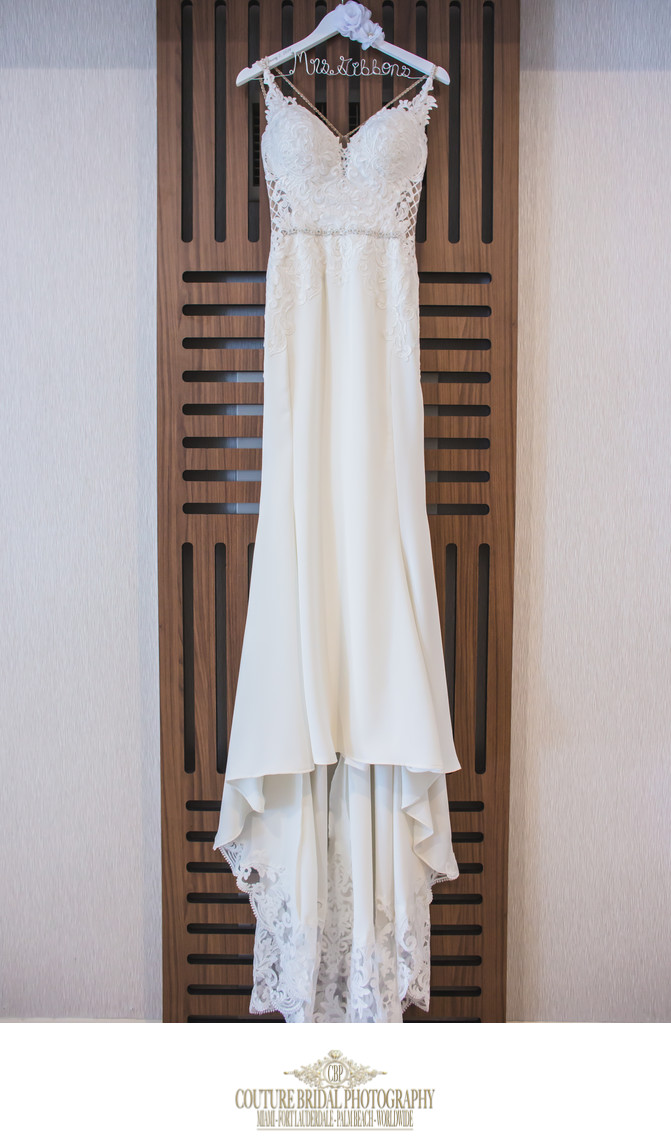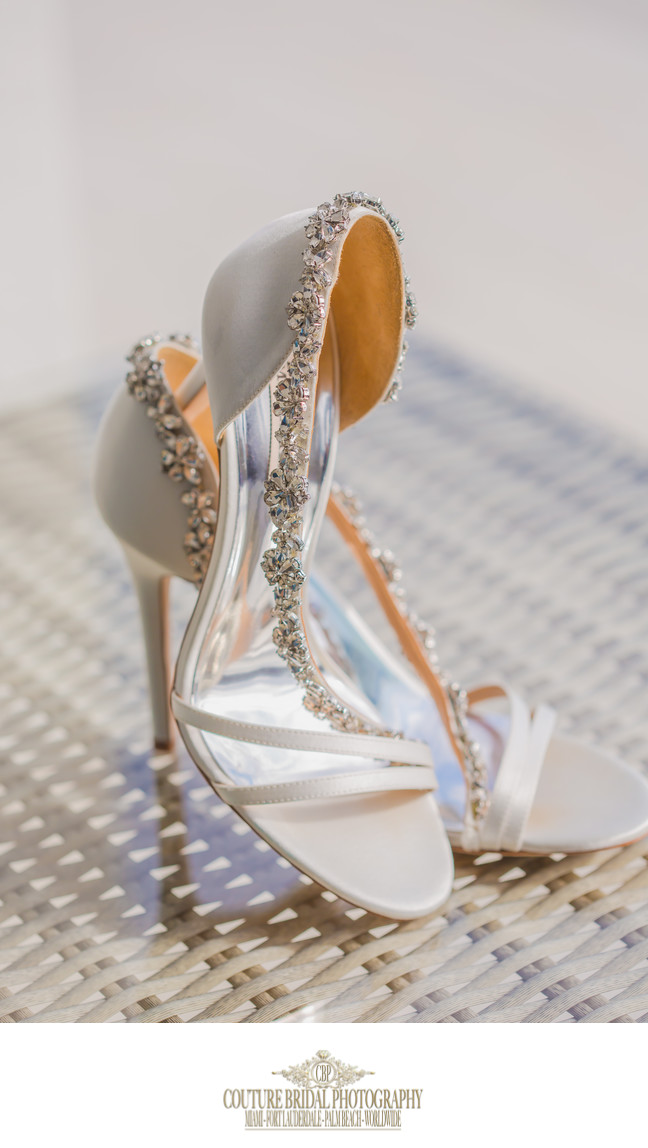 After capturing some of these details, we moved to Greg's hotel room and captured images of him getting ready with his sun. We made sure to capture some special details, such as Greg's wedding vows to Terra.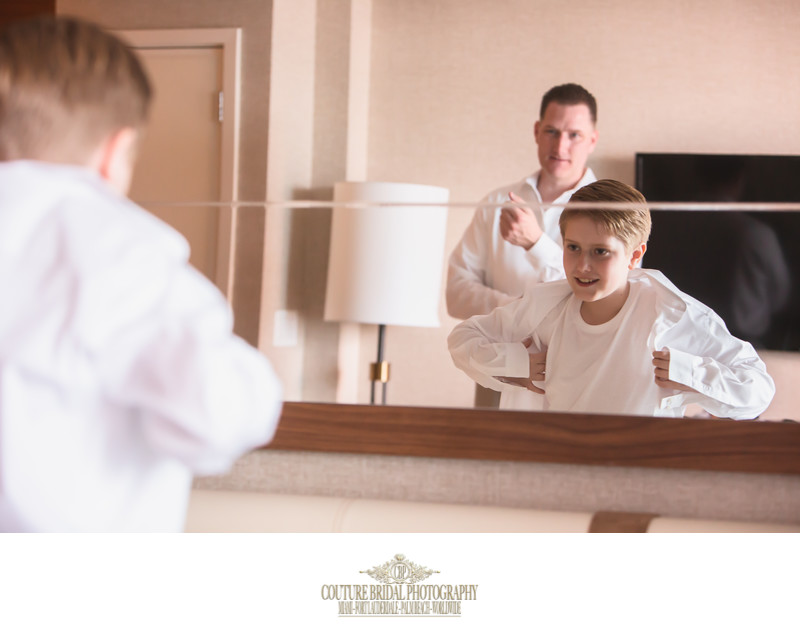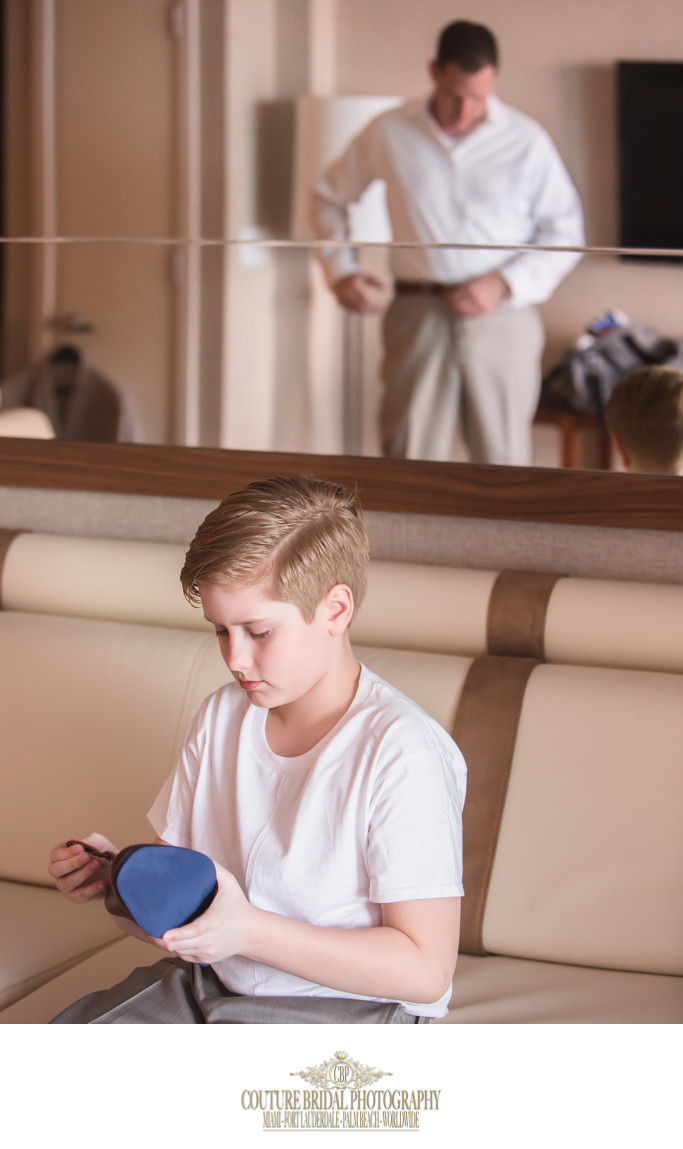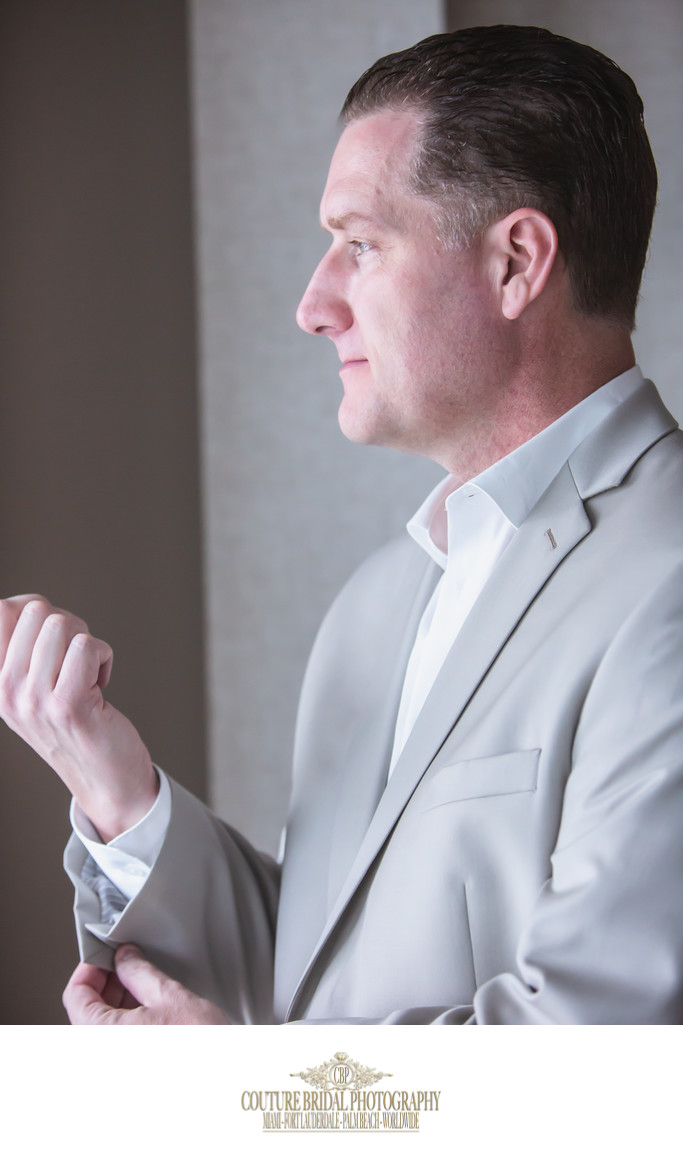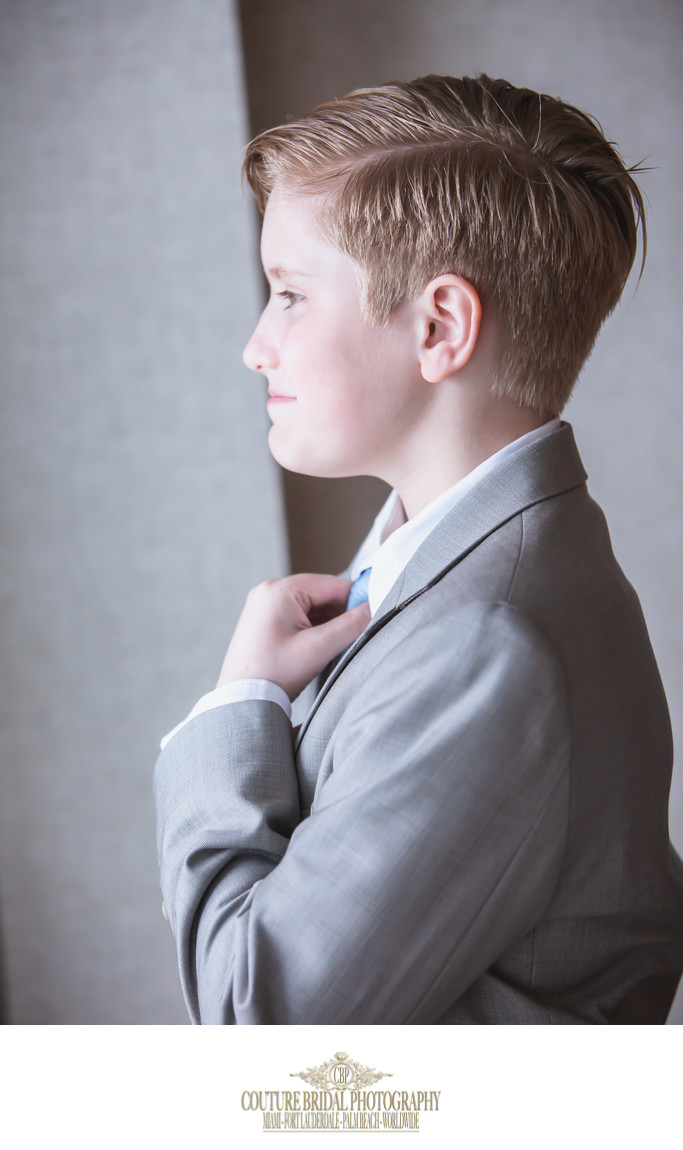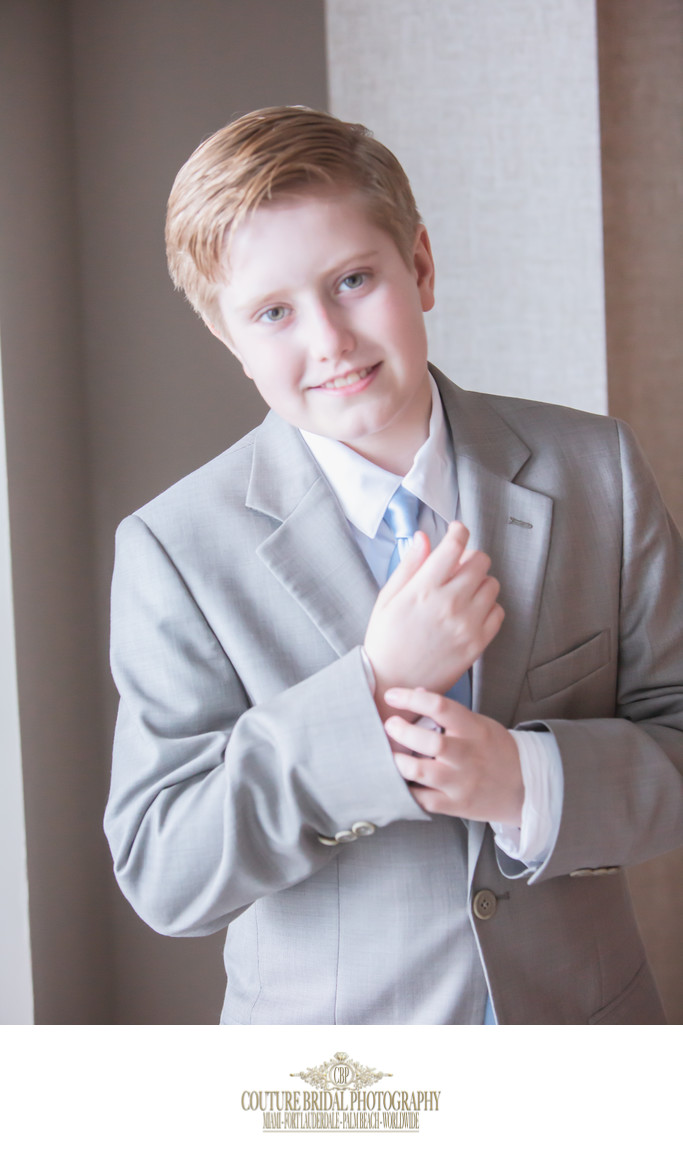 When we finished photographing Greg and his son, we returned to the Penthouse suite to catch up with Terra before she got into her wedding dress. We also captured images of her bridesmaid and mother in law as they fixed her dress for bridal portraits.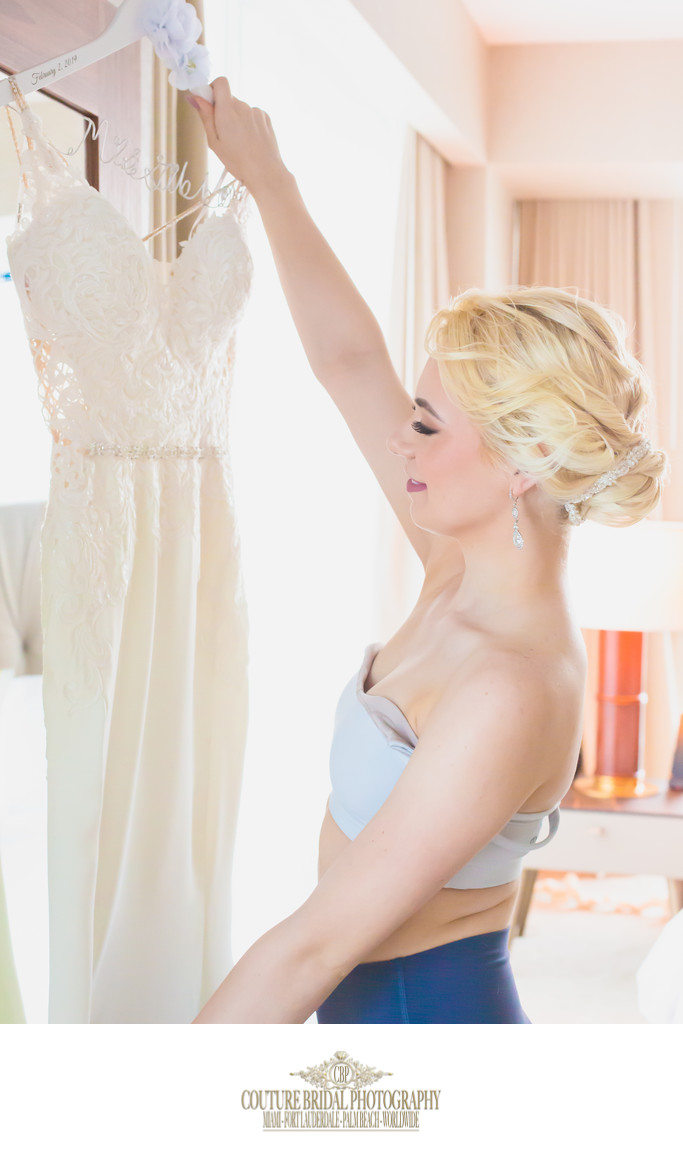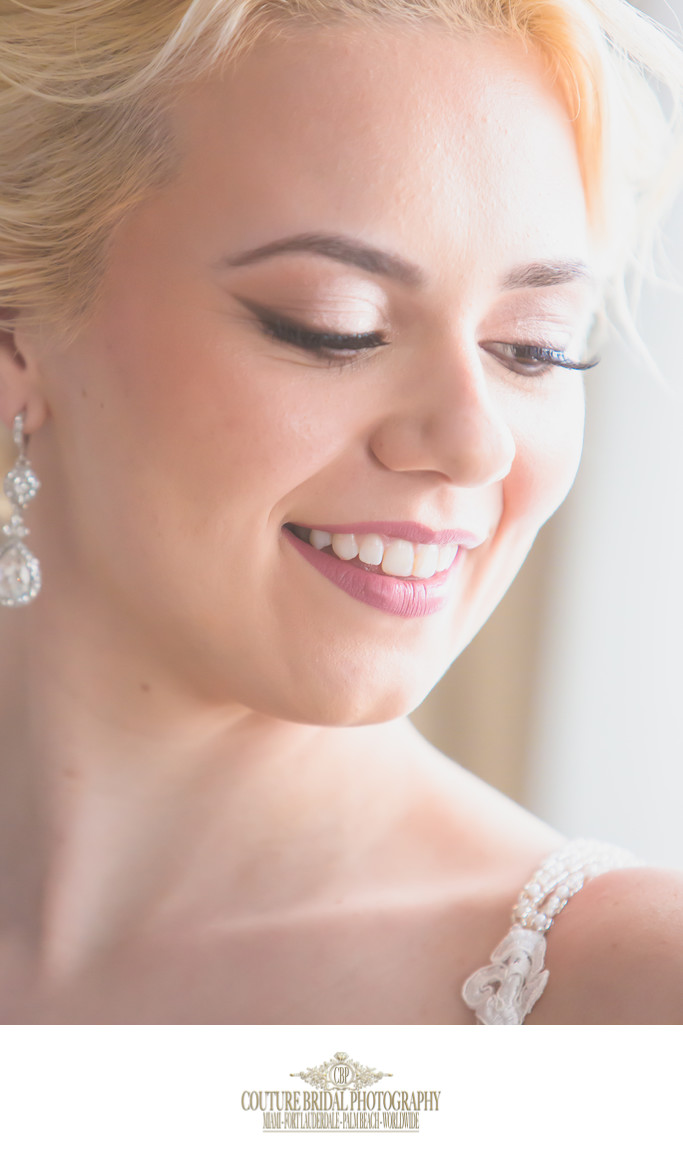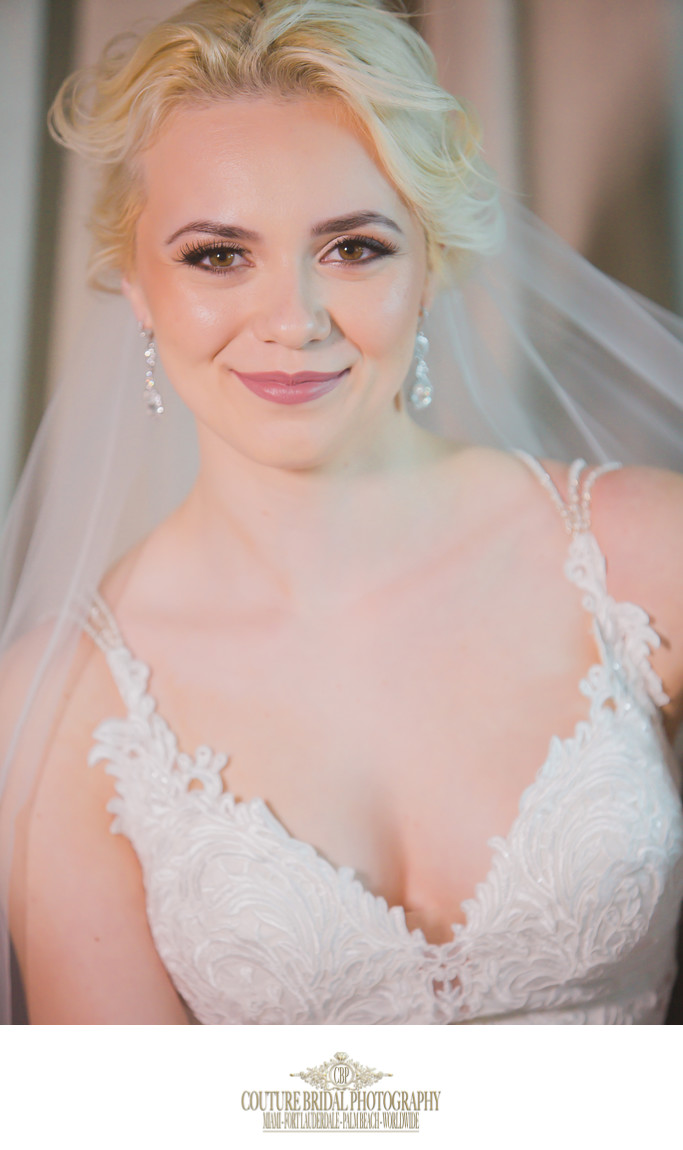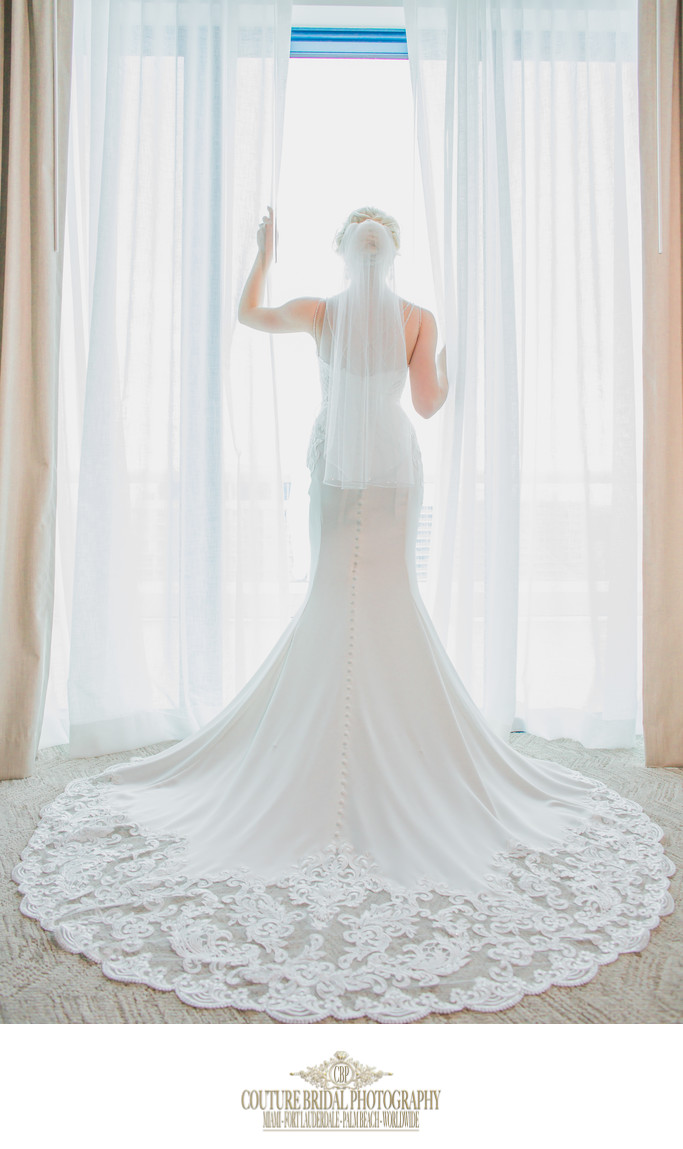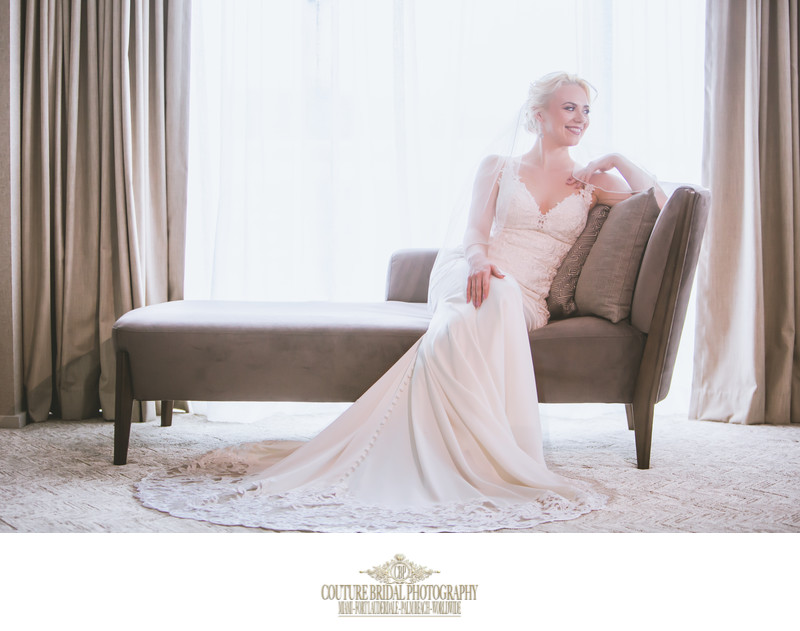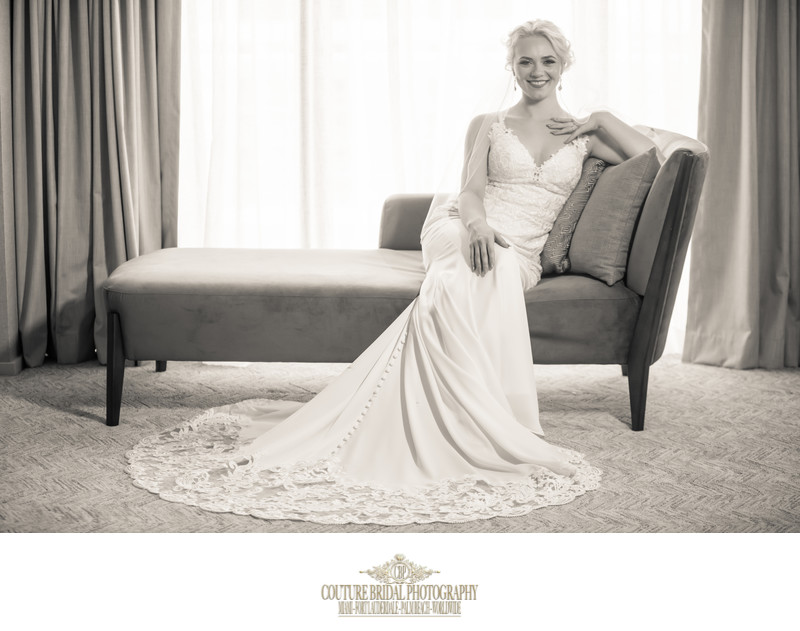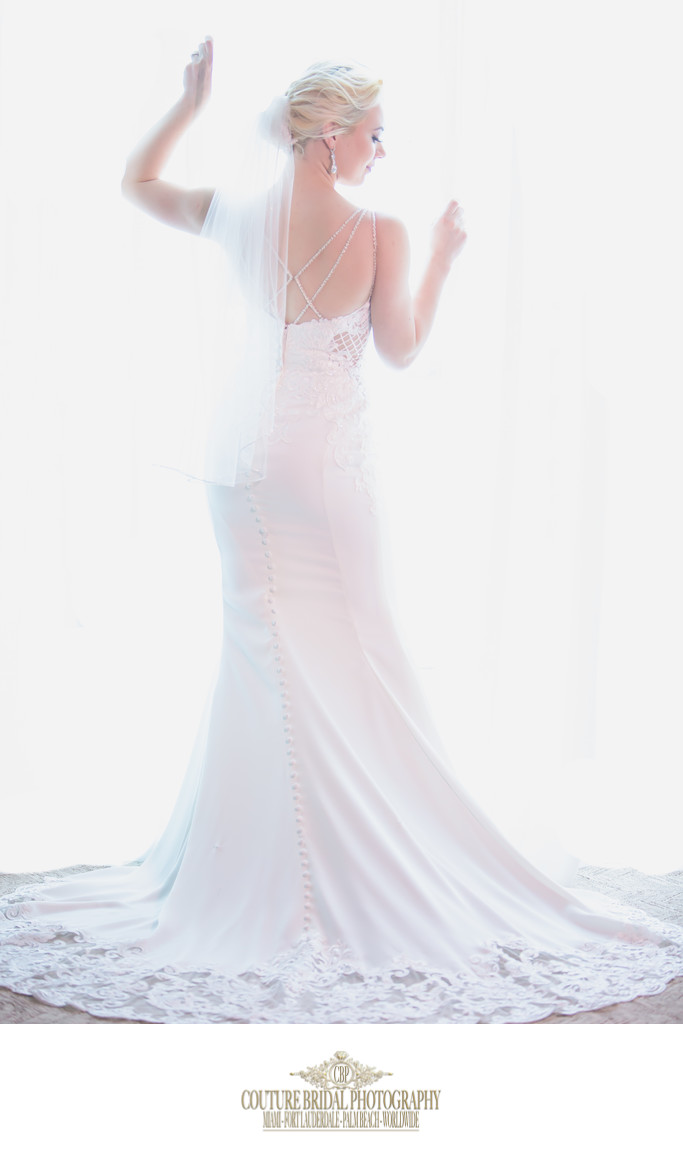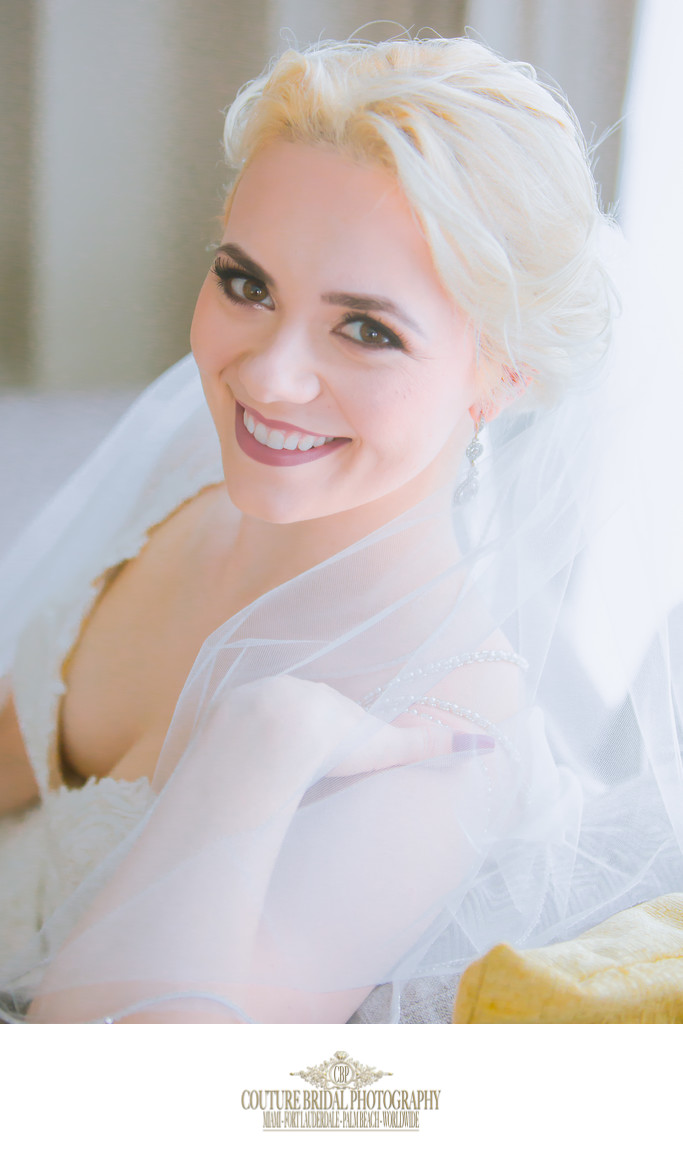 After we completed Terra's bridal portraits, it was time to unveil her to her father in law, who she has grown incredibly close to since beginning her relationship with Greg. This was a touching moment, and we are so happy we could capture it as it happened.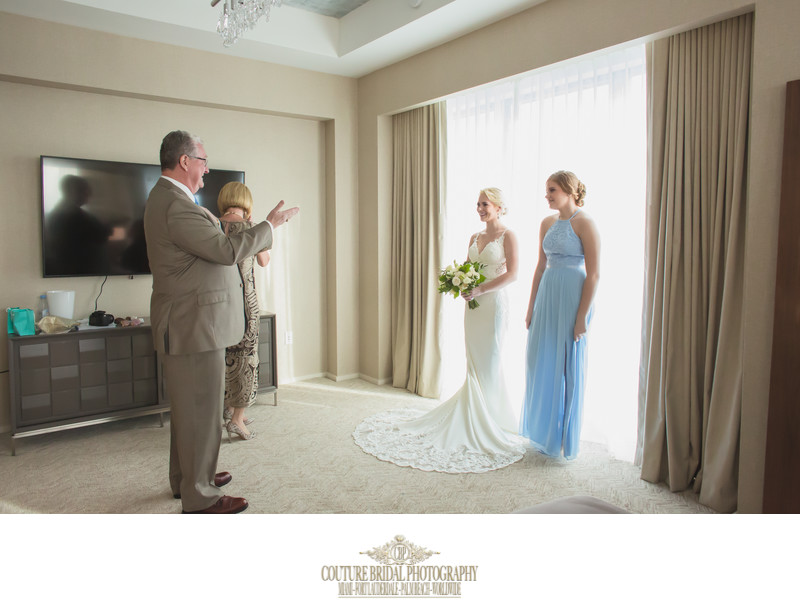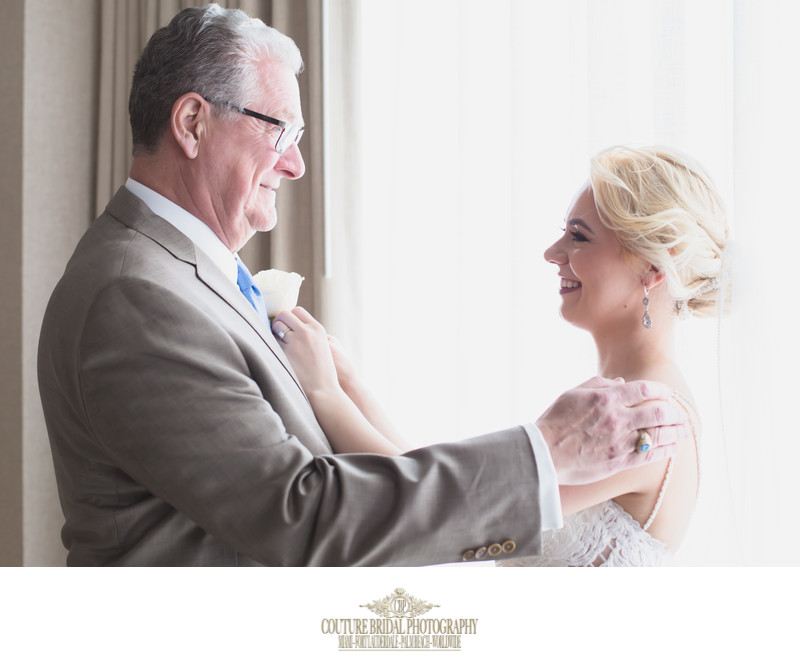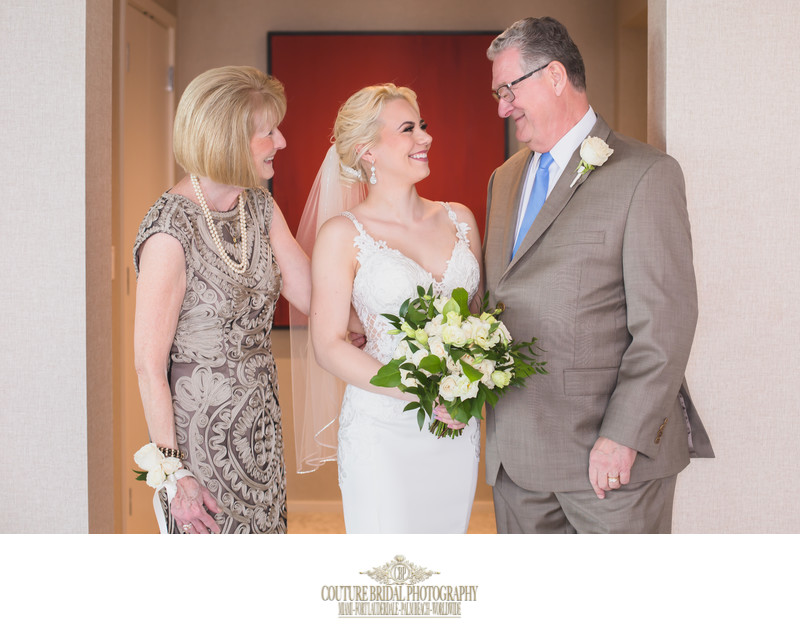 Wedding Ceremony at the Conrad Fort Lauderdale Beach
After this little moment, we set up and got ready for the wedding ceremony which was moved indoors due to rain. Of course, as soon as the ceremony was about to begin it stopped raining and the sun came out. It was decided to keep the ceremony indoors since the brides train would become wet on the balcony floors. The ceremony was a short touching ceremony with the sharing of vows, a prayer and kind words from the wedding officiant Cindy Serano of Ceremonies by Cindy.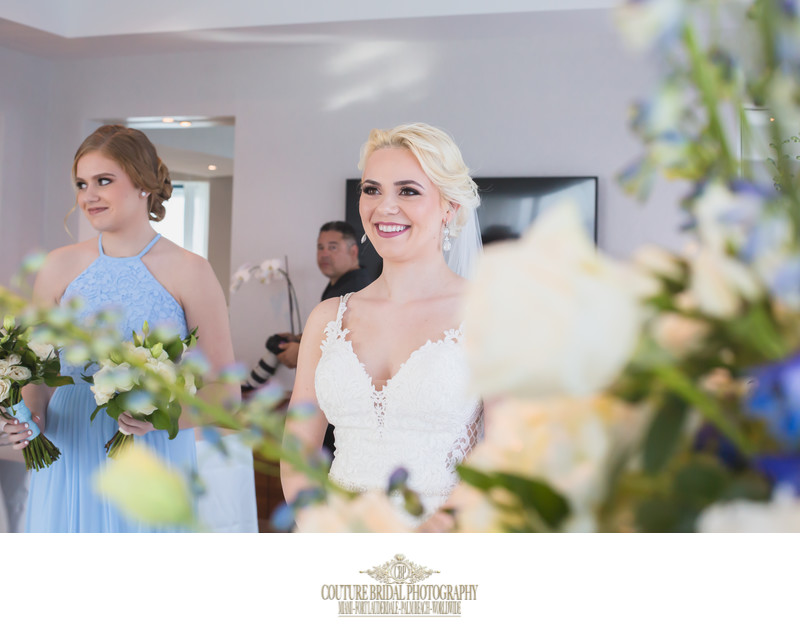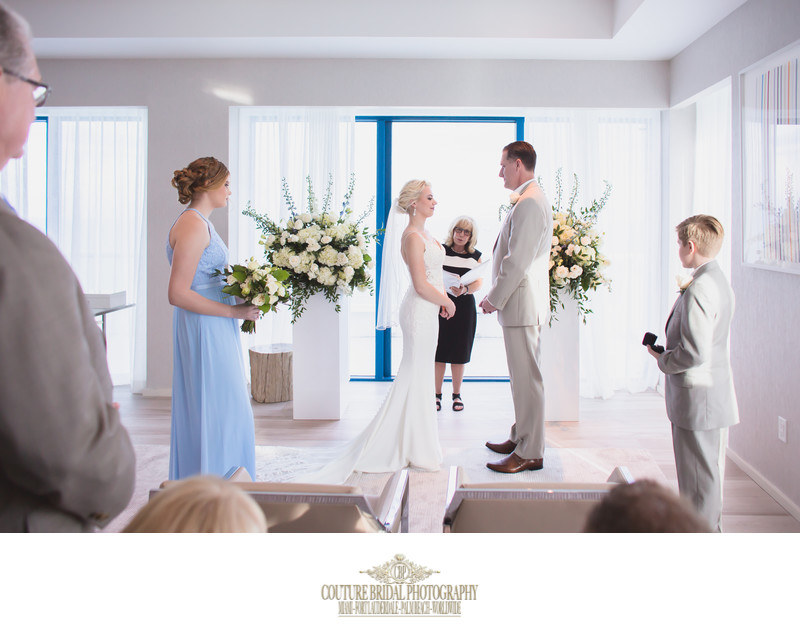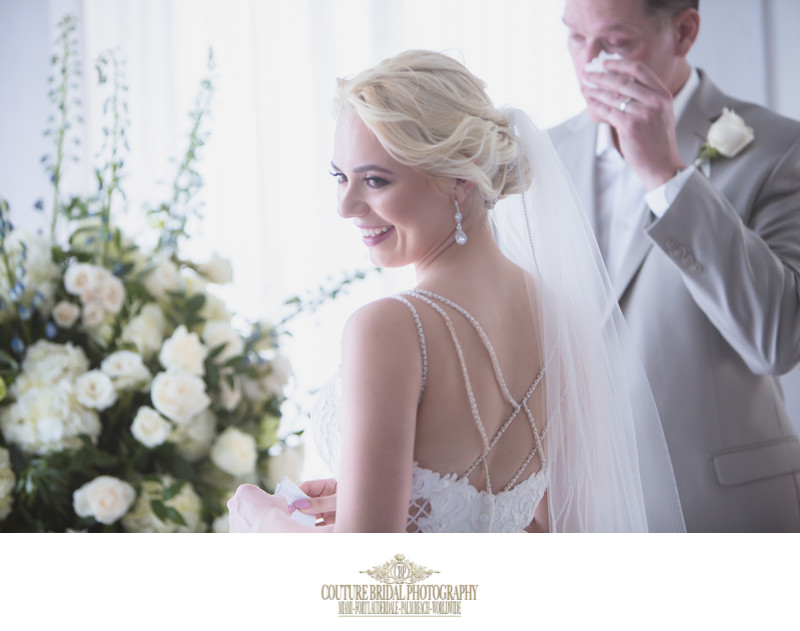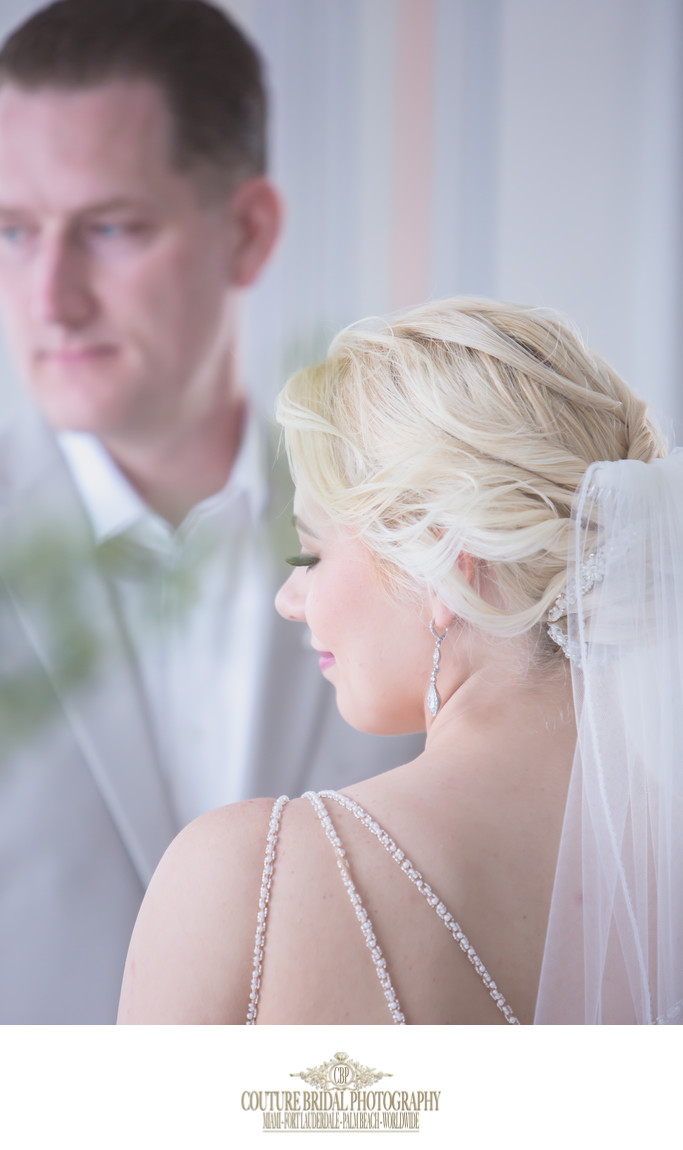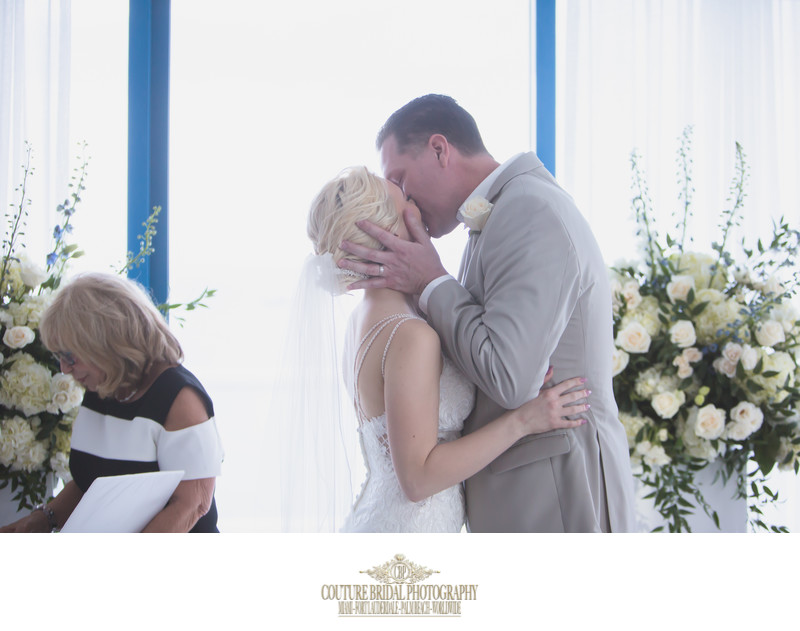 Wedding Portrait Photography at Conrad Fort Lauderdale Beach
When the wedding ceremony was completed we took a variety of photos of the bride and groom with family, friends and bridesmaid. We took all of the photos right in the living room of the Penthouse suite where the ceremony took place. Upon the completion of these family bridal portraits, we headed to the lobby of the Conrad Fort Lauderdale Beach for wedding portraits. We started in the lobby with several images and then used the Conrad's bar area located adjacent to the lobby. We also went across the street to the beach for night time beach wedding wedding portraits.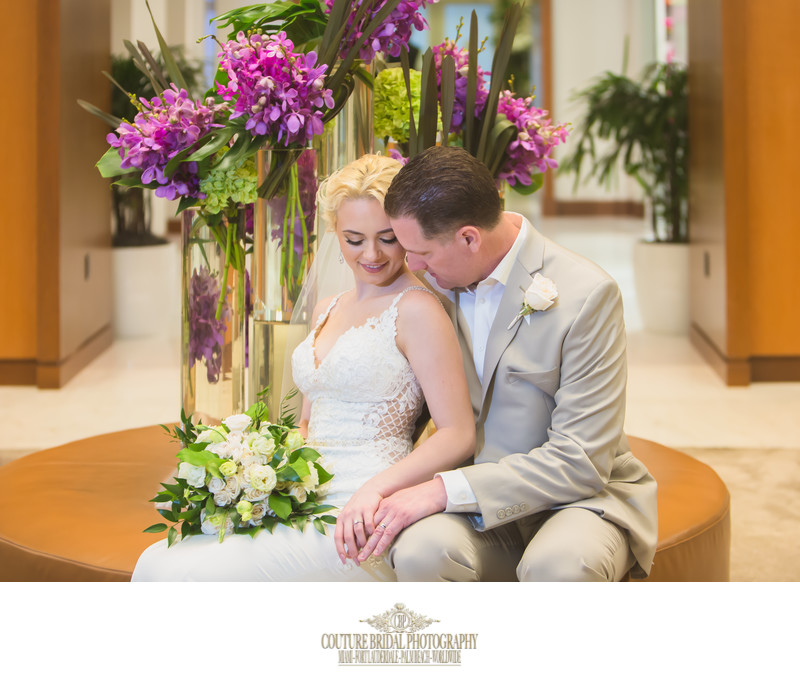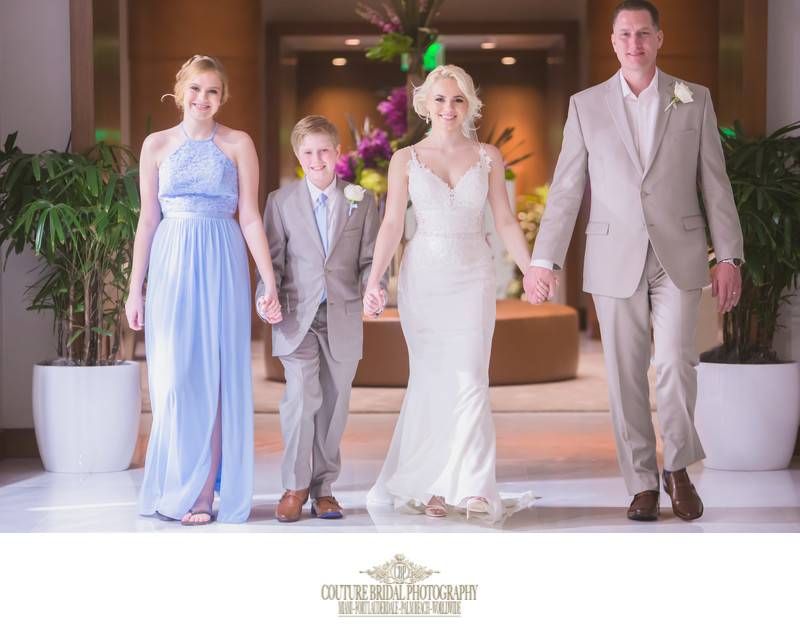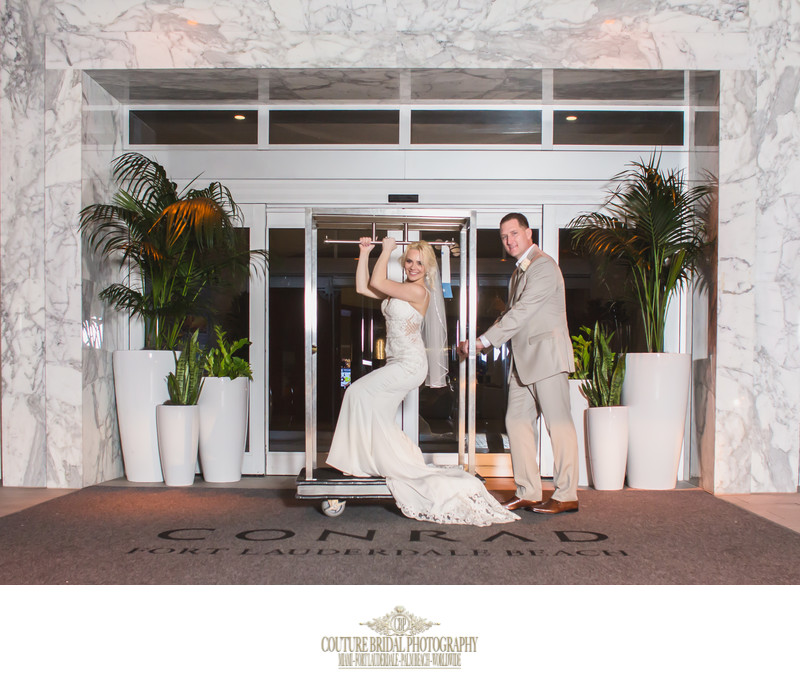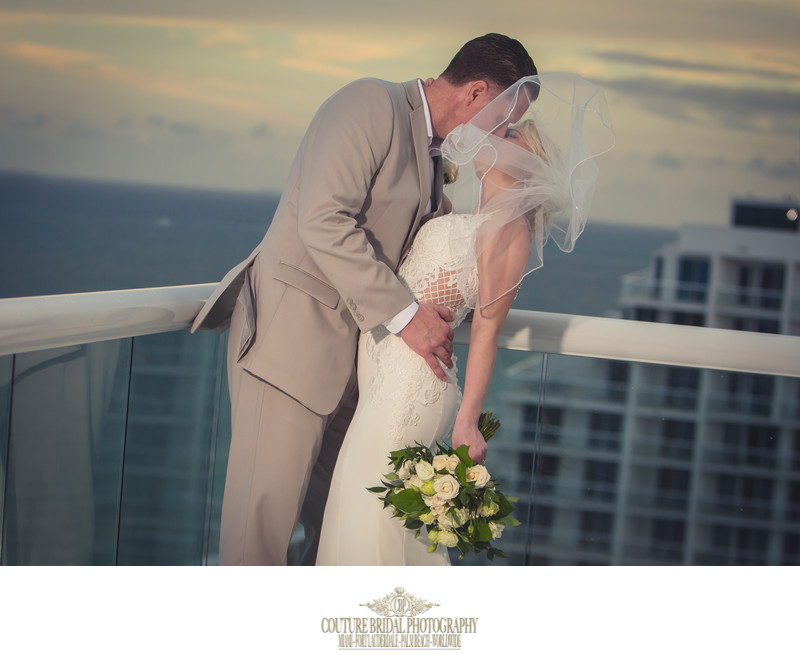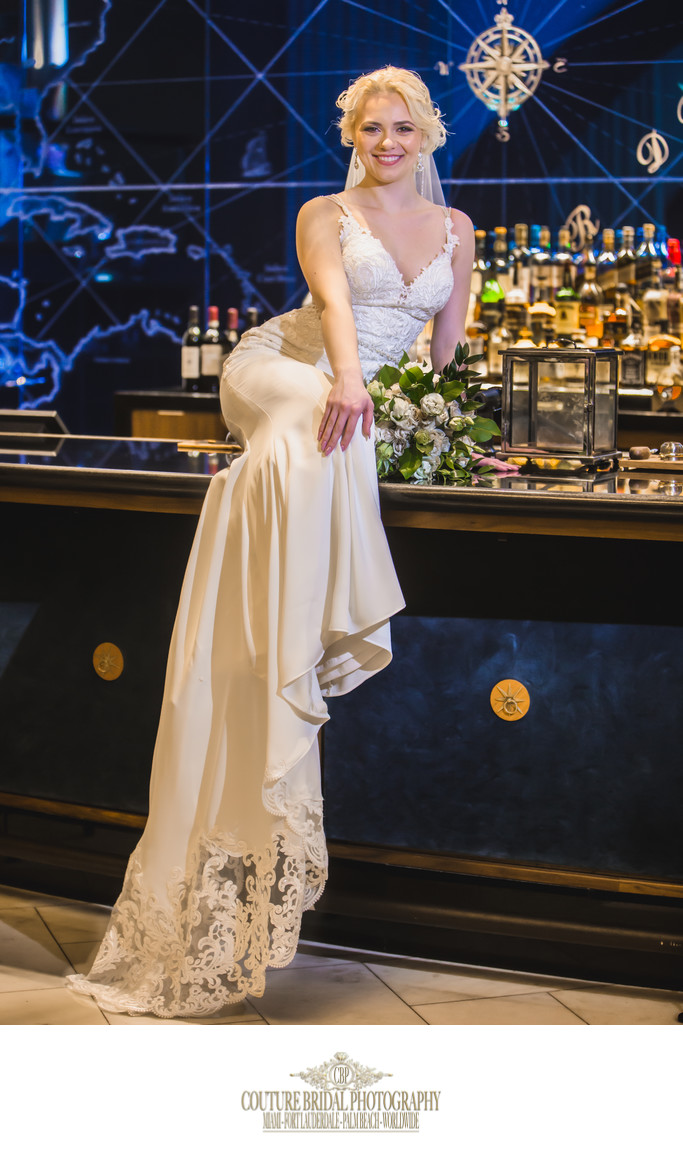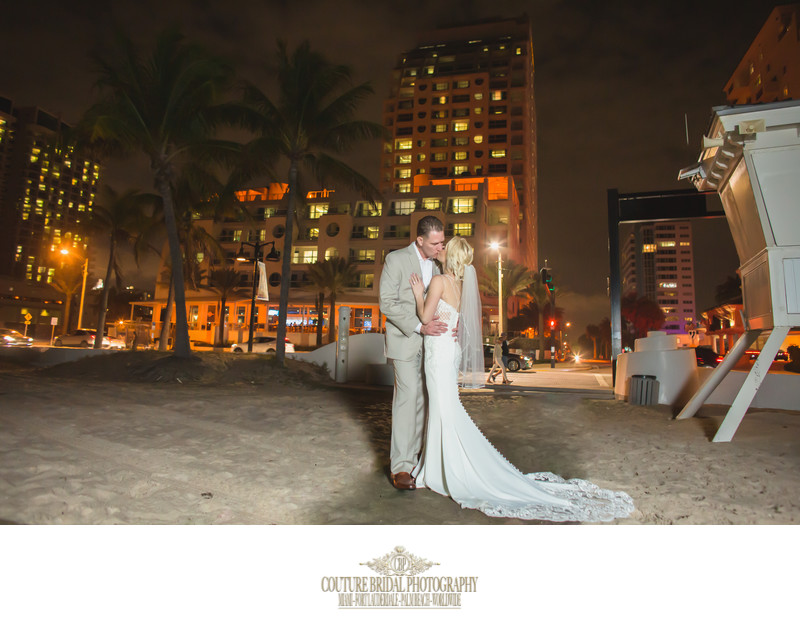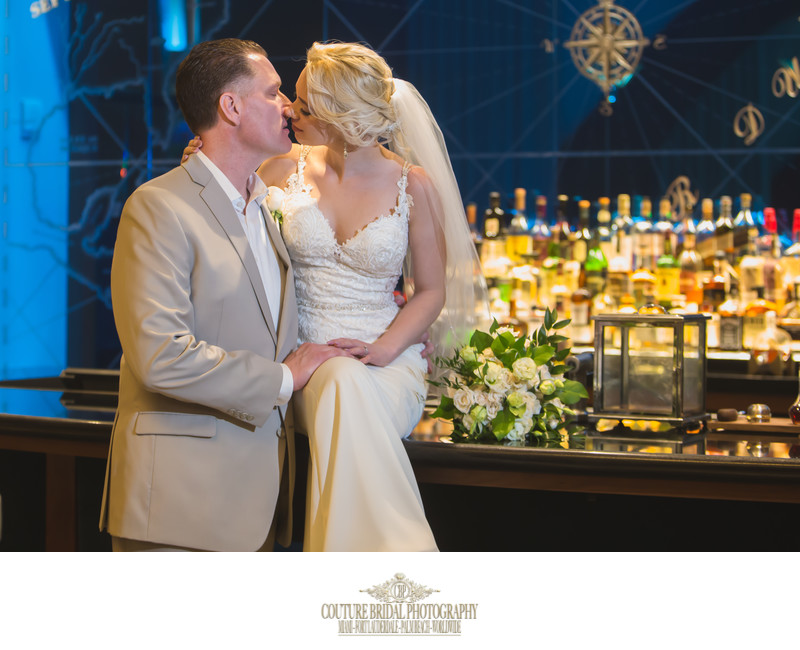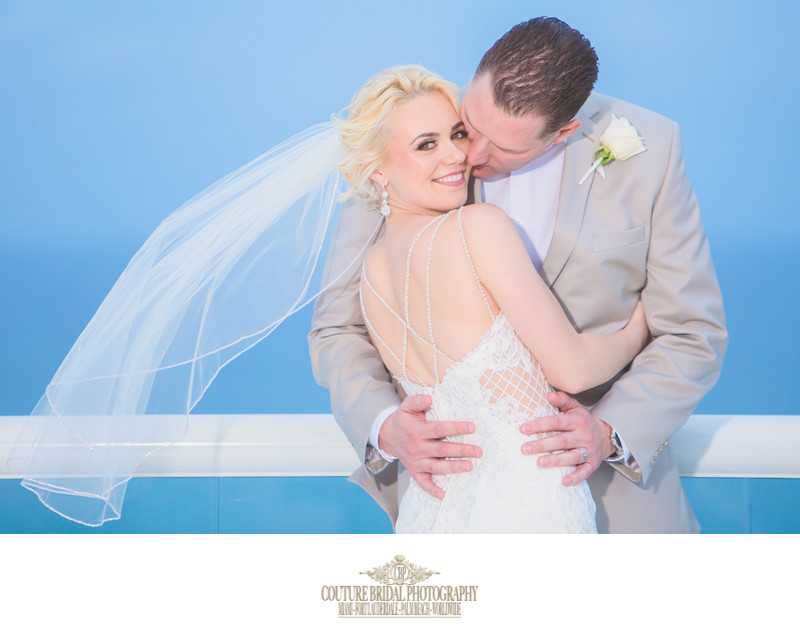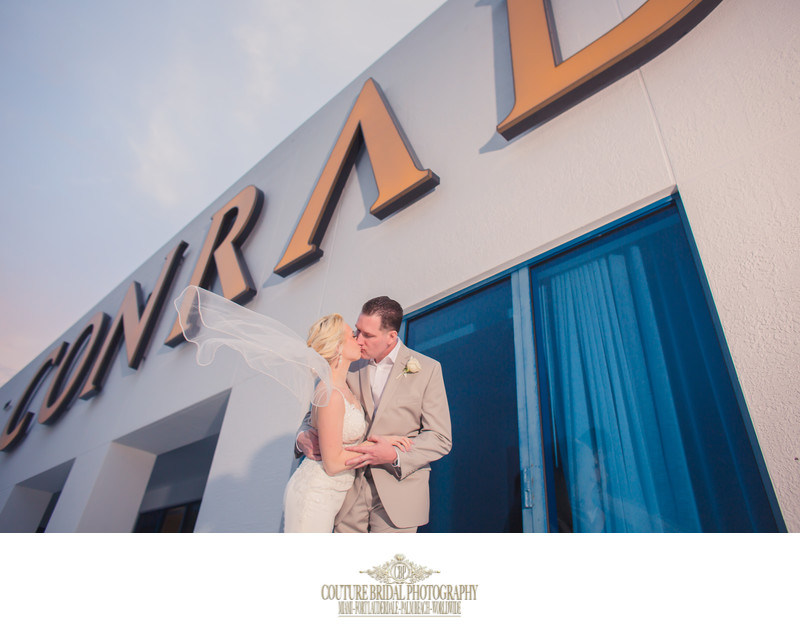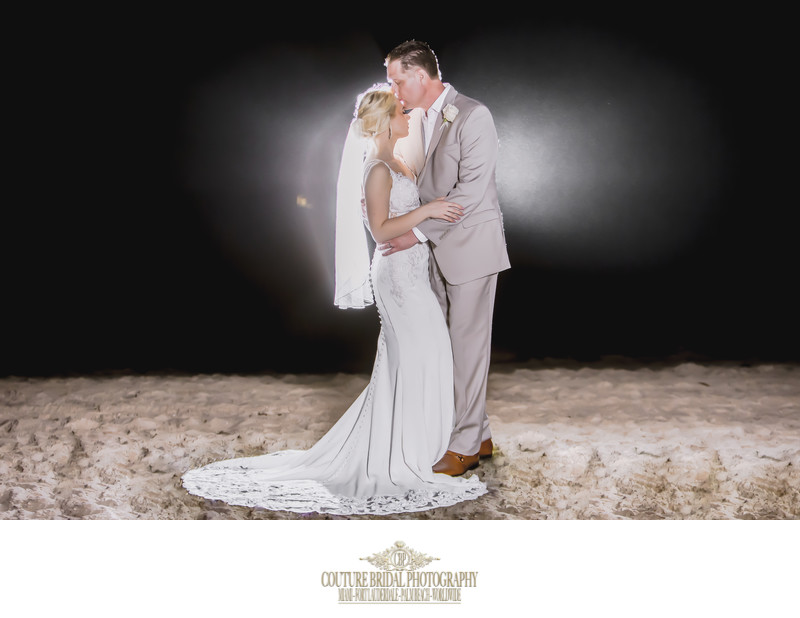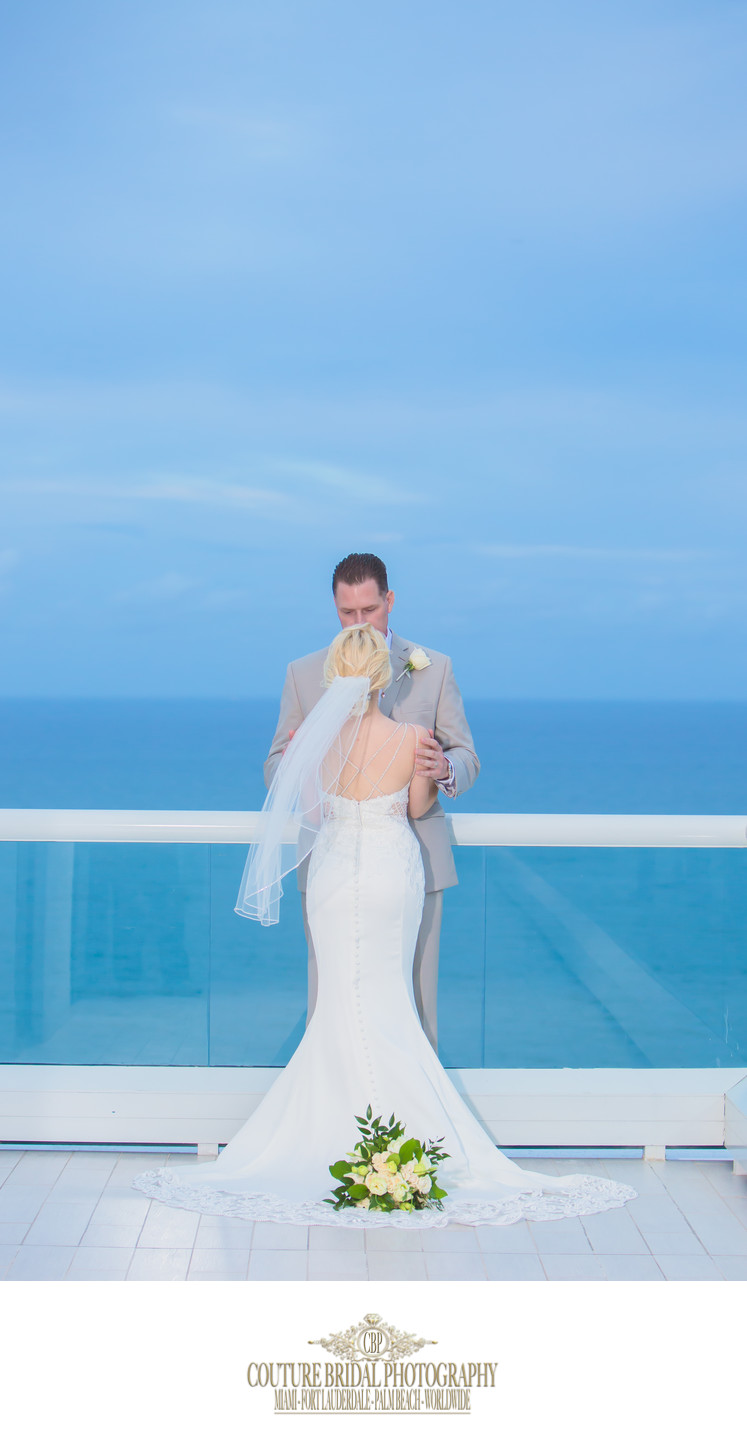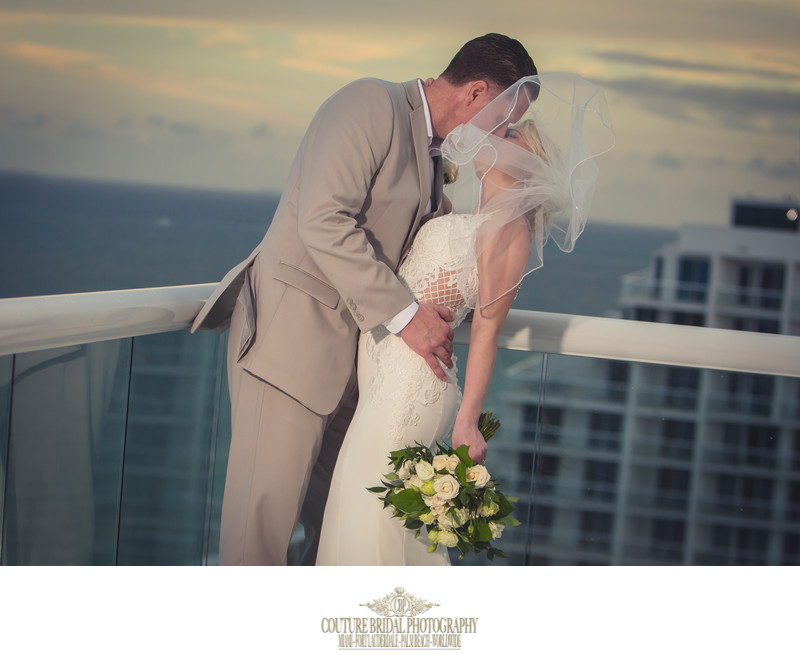 We spent approximately an hour around the Conrad Fort Lauderdale Beach property crating beautiful wedding portraits that captured the essence and personality of Terra and Greg. They wanted dramatic and romantic wedding photos to commemorate their wedding day. We then returned to the Conrad Fort Lauderdale Beach resort penthouse suite where Terra, Greg and their family had their dinner.
The Cake cutting and Night Time Wedding Photography at the Conrad Fort Lauderdale Beach
When dinner was completed we took photos of the wedding cake and pictures of Terra and Greg cutting and eating their first piece of cake as a married couple. We then went onto the balcony for some night time wedding photos with the Fort Lauderdale skyline in the background and some intimate portraits while Greg and Terra settled in surrounded by their family and friends for drinks and conversation.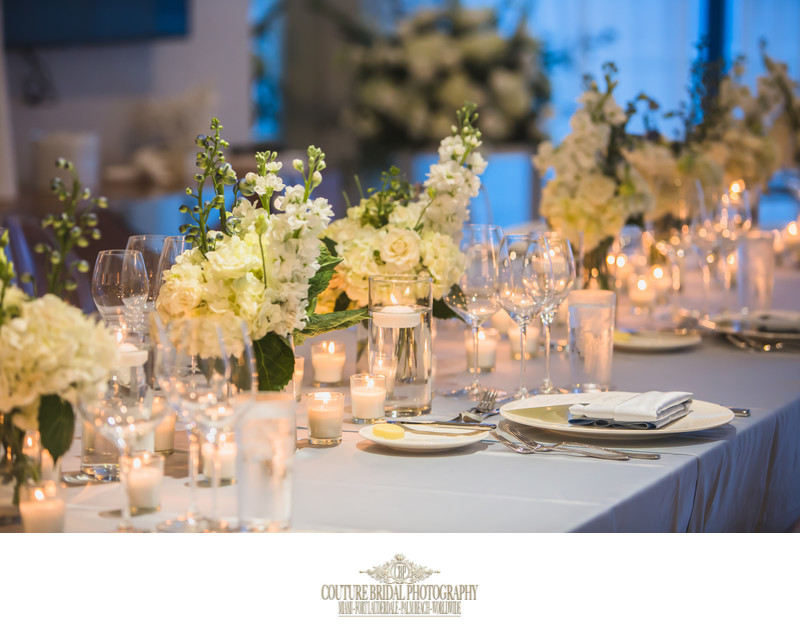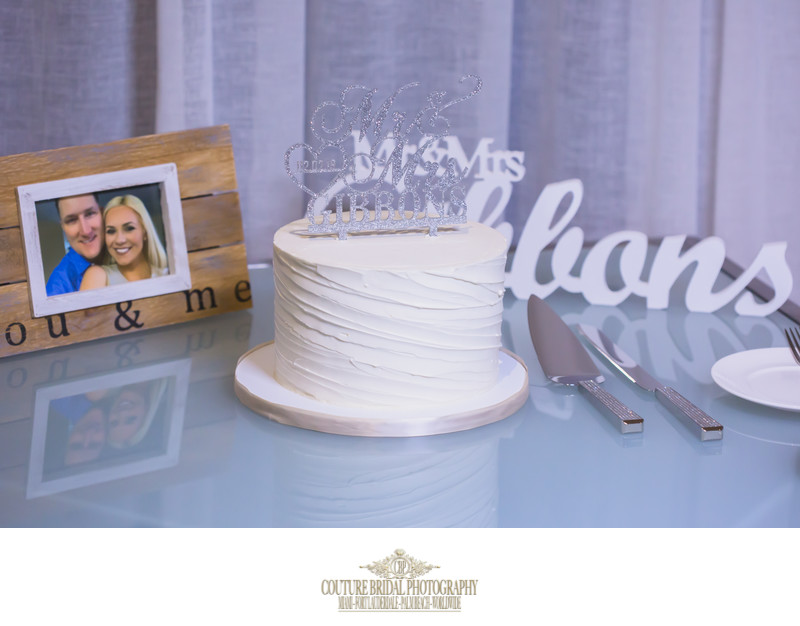 Booking Couture Bridal Photography and Couture Bridal Beauty for your Wedding at the Conrad Fort Lauderdale Beach
Couture Bridal Photography is among the top 3 wedding photography studios in Fort Lauderdale Florida and among the top 20 in South Florida. We love providing brides and grooms from around the world with the best possible story telling wedding photography throughout Fort Lauderdale, Florida and surrounding South Florida.
Couples interested in speaking with us about their wedding photography and wedding day hair and makeup should contact us early in there wedding planning.
We love the Conrad Fort Lauderdale Beach for weddings and the wedding photography options throughout and around this elegant and well laid out property.
Please call us at 954-399-07417 or email us at CoutureBridalPhoto@gmail.com
Fort Lauderdale Wedding Photographer

Fort Lauderdale, Florida - (954) 399-0741 - mail@couturebridalphotography.com - Privacy Policy - Terms of Use - Copyright Alfredo Valentine © 2008-2020