WEDDING PHOTOGRAPHY APPROACH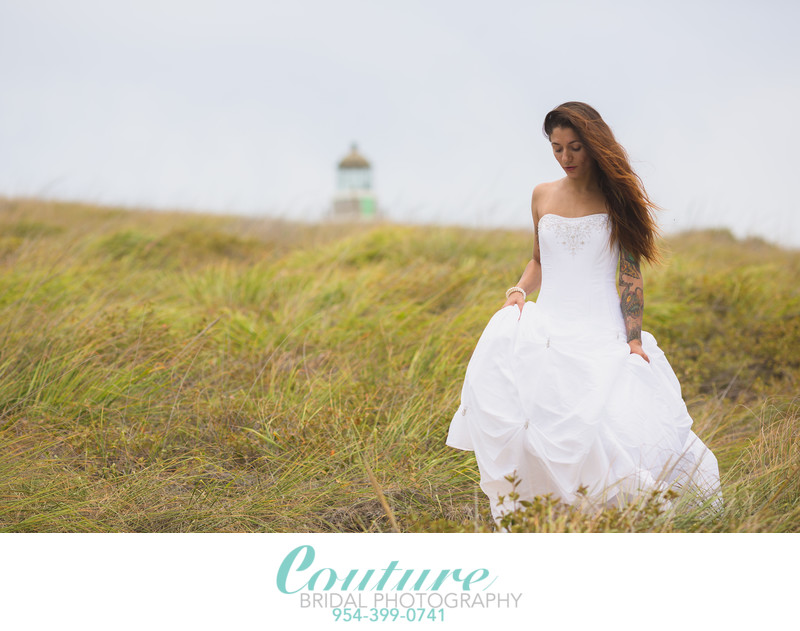 Our Wedding Photography Approach
A unique approach to elegant, romantic and timeless documentary Wedding Photography with an illustrative and fashion/glamour flair!
"When it comes to wedding photography money is not what motivates us. Our passion for romance, raw emotion and delicate moments filled with joy and happiness are our sole motivation."
I got my start in wedding photography accidentally in 2008, I invited a friend over to my home and on my computer he saw some images I had been working on. He was getting married and he asked me to photograph his wedding. I had already been a very advanced photography enthusiast, but I had never photographed a wedding before.
I refused, stating it wasn't something I had ever done. I wasn't really even interested in wedding photography to be quite honest. My friend insisted day after day, week after week, every time I saw him at work.
I finally relented and told my friend I would do some research into wedding photography and I would photograph his wedding. I told him I still wasn't confident in doing it, but since he wouldn't stop harassing me, I would agree to provide him with his wedding photography on his big day. I went online and began to research wedding photography and I discovered this amazing world of wedding photography.
I had discovered a more fashion oriented, story telling style of wedding photography I had never seen before. The idea of being a wedding photojournalist, fashion photographer, and product photographer all in the same day appealed to me. I discovered amazing wedding photography images that told a story, but were high fashion and glamourous. This was the type of wedding photography I could get into and I continued my research into European styled wedding photography.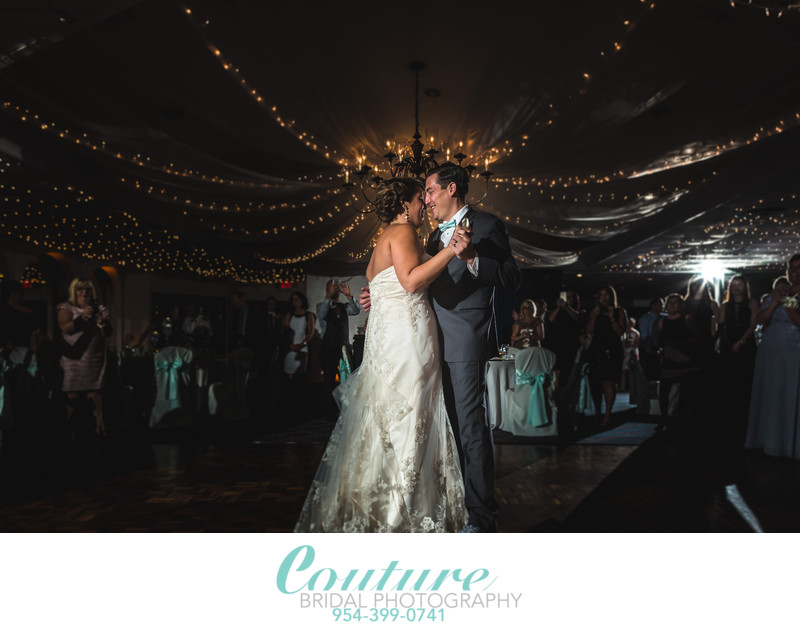 I had been taking pictures of people since the very first day I picked up a camera. I enjoyed taking photographs at family events and places I visited. I also enjoyed taking photographs of little things around the house such as matchbox cars. I loved taking candid photographs of my friends as we played throughout the neighborhood and I had continued to learn everything about photography throughout my adulthood.


I finally start my first day in the world of Wedding Photography at my friends Wedding.
My nerves were a total mess. I had never photographed a wedding day and here I am at the Diplomat Resort and spa in Hollywood, Florida taking pictures of a bride having her hair done. Then I had to run to my friends room to take photographs of him getting ready as well. I still had a ceremony and a long reception coming and he wanted some beautiful portraits with his new wife on the beach during the cocktail hour. I was incredibly nervous and this was my first wedding photography assignment ever.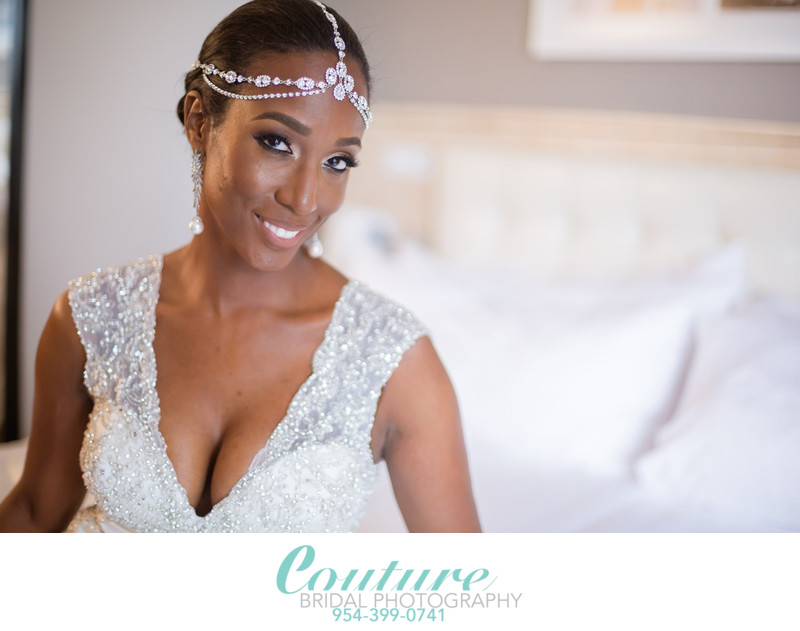 The getting ready portion of Wedding Photography

This is where I learned to be very creative. I made sure to capture photographs of the dress, the rings, and the bride as she had her makeup touched up before putting on her wedding dress. I then found how emotional it can be for the bride and her mother as the bride gets into her dress. These are the tender moments of the wedding day. As my first time on a wedding photography assignment, I made sure I captured everything, every detail, and every moment...
I then ran to my friends room where he was getting ready and I made sure to make it appear as if we were doing a photo shoot for a tuxedo company. I made him look stylish and I captured the moments where his father helped him along with the best man getting his jacket on and accessories. I started to settle down and began to enjoy the wedding photography experience I was having.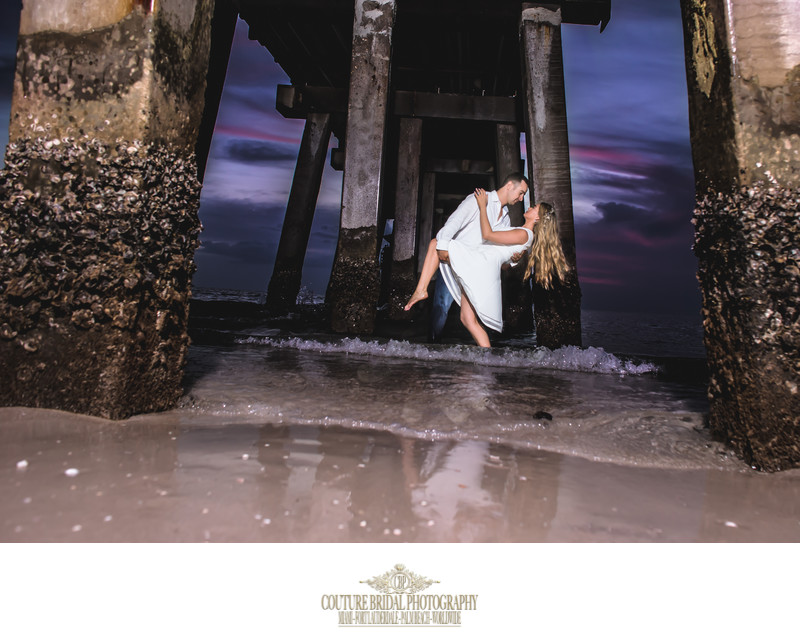 My first Wedding ceremony on my first Wedding Photography assignment
So on my first wedding photography assignment I'm at the Diplomat resort and spa on the rear deck waiting for my first wedding ceremony as a wedding photographer to begin.
The light wasn't very perfect and I felt a lot of pressure to really perform. I hadn't attended a wedding in a long time, so I wasn't quite sure of the timing. I knew I had to pay close attention to what was going on during the ceremony and not miss the first kiss.

The wedding processional began and I used the opportunity to capture the smiles and emotion from the wedding party, the seated guests and bride and groom as they walked by me. As the my friend walked by, he whispered, "your doing great". That gave me a boost of confidence I really needed because I wasn't so sure. This was my first time ever being someone's wedding photographer.
I captured a lot of the emotion of the bride and groom as the officiant recited various vows, and when he got to, "I know pronounce you man and wife". I began snapping away to make sure I didn't miss any of the first kiss. That was the very moment, I knew I wanted to be the best professional wedding photographer in the world. I had become addicted to the pressure, emotion and the romance of a wedding day, and I knew I could offer something different from everything else I had seen up to this point.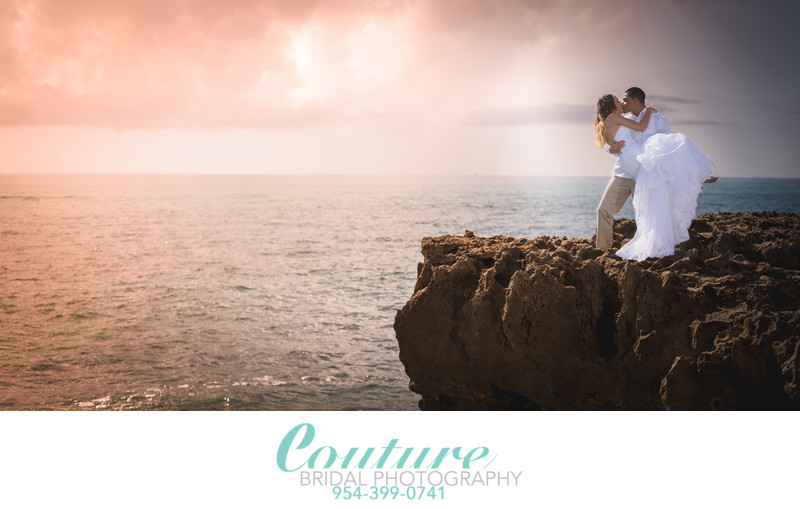 The Beginning of Couture Bridal Photography as a Fort Lauderdale Wedding Photography studio!
A few weeks after my first adventure in wedding photography, I decided I wanted to do this as a part time/side venture. I simply came up with Valentine Photography and started work on my first website and I was now advertising using my first wedding photography assignment as my portfolio.
It was slow at first, but I started getting contacted by people from my friends wedding that I photographed. Word of mouth was on my side, and for a few months and a few years afterwards I was the wedding photography provider of choice for the guests and family members that attended my friends weddings. I then kept getting hired by people from each wedding I did for someone else. My wedding photography was like a snow ball rolling down the side of a mountain, getting bigger and bigger.
My Wedding Photography training, influence and style
(Alfredo Valentine)
My wedding photography style is heavily influenced by Jerry Ghionis, Roberto Valenzuela, Yervant, Joe Buissink, David Beckstead and Cliff Moutner. I have attended their various seminars on wedding photography lighting, posing, and composition. I continually follow their work, and have the fortune on becoming personally acquainted with them through attendance at WPPI.
My style of Wedding Photography is influenced by the elegant fashion/glamour wedding photography of Jerry Ghionis, Roberto Valenzuela, and Yervant combined with he wedding photography photojournalism of Joe Buissink and Cliff Moutner, with some of my compositional wedding photography style of David Beckstead. Combining these styles has created a very unique wedding photography experience for my couples.
Our Wedding Photography Editing Style

My wedding photography editing style is straight forward with very little touchup other than cleaning up color, removing blemishes and cropping. I like to capture the essence and beauty of a couples wedding day, and edit so that the eye is drawn directly to the special moments captured in an image. I like my images sharp, crisp and naturally colorful, yet not unnaturally overly saturated or softened.
My black and white editing has a slight warmth and is very pleasing with the various tones visible in the image. I do all my own wedding photography editing from beginning to end, as well as my wedding photography album designs. I am personally involved in my couples engagement and wedding photography from beginning to end. My wedding photography is a reflection of who I am, and what I feel, and very much a part of me.
So why do couples choose Couture Bridal Photography for their Wedding Photography in South Florida, the Caribbean and beyond?

Couples choose Couture Bridal Photography for their wedding photography, because they know they are getting a wedding photographer that's passionate about capturing their wedding day story in a series of elegant, timeless images.
They realize that I am not motivated by money and love creating art with them as the subject. They recognize I am not a wedding photography studio that employs multiple photographers photographing multiple weddings on any given day.
They choose my wedding photography, because I offer an experience that makes them a part of the behind the scenes story. This is what makes a couples wedding photography experience fun, exciting, and lends to some of the most creative images I've captured in my years in wedding photography.
The couples that choose me know from the start that I will provide them with a very personalized wedding photography experience from the first phone call to the delivery of their beautiful wedding photography albums, I have custom designed and manufactured by hand in Arba, Italy by GraphiStudio. The worlds leader in photo book production and exclusively used by Couture Bridal Photography.
Fort Lauderdale Wedding Photographer

Fort Lauderdale, Florida - (954) 399-0741 - mail@couturebridalphotography.com - Privacy Policy - Terms of Use - Copyright Alfredo Valentine © 2008-2020