WEDDING PHOTOGRAPHY COSTS
COST OF WEDDING PHOTOGRAPHY EXPLAINED
What you didn't know about the cost of wedding photography explained!
One of the biggest investments, besides buying a car or a house in your life will likely be your wedding. The cost of hosting an average wedding in the United States ranges from $15,000 -$50,000. One of the most important wedding vendors, you'll hire will likely be your wedding photographer. A professional wedding photographers work doesn't begin when they show up to photograph your wedding day. It starts the moment you contact them inquiring about their services and pricing.
The cost of being a professional wedding photographer can be profound. Most people do not realize just how expensive it is to operate and provide a professional service along with expenses a small business owner must shoulder. I would like to share with you just how expensive it is to operate a professional wedding photography studio.
I'm Alfredo Valentine, and I am the owner and principal wedding photographer at Couture Bridal Photography. I created and founded my wedding photography business Couture Bridal Photography in 2008 in Fort Lauderdale Florida. In the 12 years I have been offering wedding photography throughout South Florida, I have become a highly sought out wedding photographer photographing weddings throughout the United States, Caribbean, South America, Europe and soon the South Pacific.
Becoming one of the highest rated wedding photographers in Fort Lauderdale and throughout South Florida didn't come free or easy. It's been a roller coaster ride with expenses and operating costs most couples don't even realize are involved with operated a professional wedding photography studio.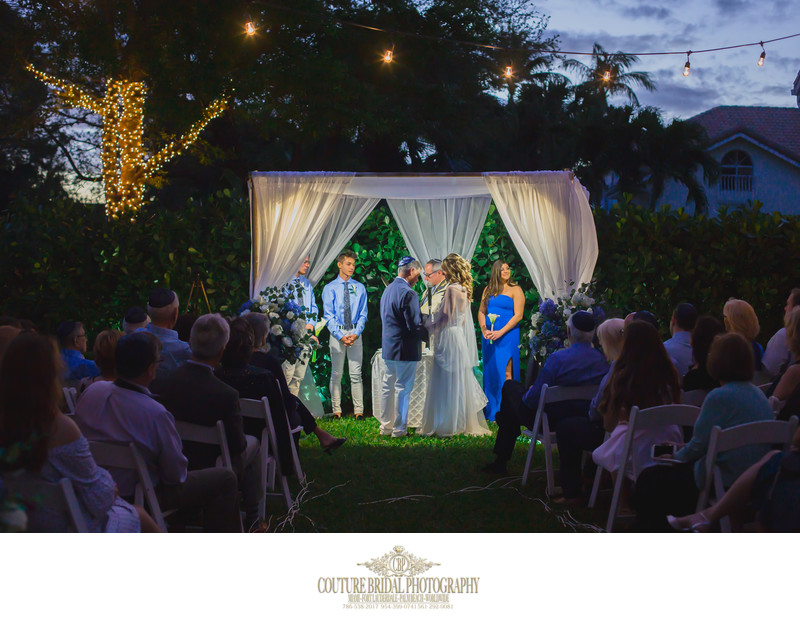 The Cost of Starting a Wedding Photography Business
I started Couture Bridal Photography after being talked into photographing a wedding by a friend. I had professional grade photography equipment on my first wedding, but that soon changed when I started receiving more and more calls for wedding photography. I started photographing more weddings and I needed to upgrade camera bodies, update my computer, buy software, get a general liability insurance policy and upgrade to large hard drives for storing and working on images. Another expense was my website and its hosting.
Wedding Photography as a business created costs in order to provide a professional wedding photography experience for my clients. I also had to account for my time photographing a wedding and the time necessary for editing images and delivering them via flash drives and online galleries. So let's see what it costs me to photograph a wedding.
The Cost of Photographing a Wedding
My first expense to operate Couture Bridal Photography is my website. I pay approximately $300 a year for my platform and hosting. I am fortunate that I do my own web design and SEO which would be an additional expense.
$300.00
You contact me and I operate the business aspect of my business using 17hats. This allows me to create contacts, manage my calendar, collect payment, and all my accounting. This cost is $150.00 a year.
$250.00
I carry a million dollar general liability insurance policy that costs me $400 a year. This allows me to photograph weddings in any venue, protects my clients in case of an accident and protects my business.
$400.00
I am a member of the PPA which grants me insurance for my equipment due to accidental damage or theft. This insurance costs me $300.00 a year and includes my equipment insurance up to $10,000.
$300.00
I use a heavily modified iMac 27" with several internal SSD drives and 4 external Raid drives to store images. This costs me over $4000.00 and is due for an upgrade.
$4000.00
My cameras each cost $3,800.00 and need to be replaced every 2 years. I send them each to Canon for shutter replacement and sensor cleaning each year at a cost of $150.00 each.
$7,900.00
So operating my wedding photography business costs me approximately $13,150.00 each year. I also didn't add my subscription to Adobe which is another $200 a year and miscellaneous expenses like business cards.
I also haven't figured in my personal value, which is the cost of my time. I am a bargain at $300.00 an hour and when you consider the time editing images which exceeds the amount of time photographing, I am not really paying myself well. I also don't operate a storefront or studio which eliminates rent, internet, electricity and other costs related to having a storefront or studio.
WEDDING PHOTOGRAPHY COSTS