COUTURE BRIDAL PHOTOGRAPHY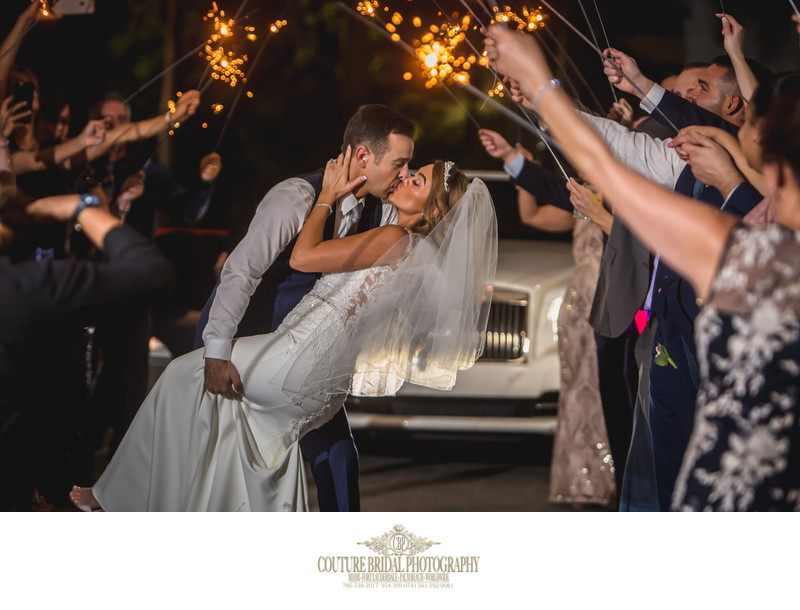 The Best Sparkler Wedding Send off Guide by Florida's Top Wedding Photographers!
Sparkler wedding send offs are a popular and fun option couples choose to end their wedding day festivities. It's all the rage now and we have photographed hundreds of sparkler wedding send offs in Miami, the Florida keys, Fort Lauderdale, Palm Beach, Naples and even on destination weddings we photograph in Puerto Rico, Hawaii and Cartagena Colombia. As one of the most sought after wedding photography studios in Florida and throughout the Caribbean, we've coordinated and worked with couples to plan the perfect sparkler send off, so everything goes smooth and without a hitch.
Wedding Sparkler Send off Safety
First and foremost, I want to state that as beautiful and fun a sparkler exit can be, sparklers can cause severe burns and ignite flammables quite easily, especially hair loaded with hair products. The addition of guests who might have been drinking alcoholic beverages add an additional factor to consider. I personally haven't experienced any incidents with sparklers during a wedding send off in the hundreds of weddings we've photographed, but I have had to stop guests from goofing around as they begin to initiate "Star Wars" lightsaber battles.
So here are a list of some wedding sparkler send off safety tips you should follow:
Make sure your wedding venue allows sparkler send offs. Some venues don't allow it due to a variety of reasons or even during a drier time of the year. Some historic buildings that host weddings might not allow it for obvious reasons. Before ordering sparklers and adding a sparkler send off to your timeline, ask whoever runs the venue specifically and if you can get permission in writing.
Make sure the sparklers you are using are not the 4th of July type that are about 6 inches long. You want to get sparklers that are specifically made for weddings that are 20 to 36 inches long.
Get a big bucket from Home Depot or Lowes and fill it with a large bag of kitty litter. Try to fill the bucket half way. The kitty litter will snuff out the sparklers, since sparklers can burn so hot they will reignite when pulled from the water.
Have a fire extinguisher near by just in case someone or something gets lit up by a sparkler. Remember, guests will be wearing lots of gel and hairspray along with cologne and perfume, all which is ignitable.
Keep in mind sparklers are essentially thin wires, they can break skin and definitely seriously injure someones eye. Don't let children play with them and make sure everyone is aware, although obvious that they can cause a serious injury even when they aren't lit.
When walking with the sparklers to line up, please keep them away from clothes, hair and faces
Now that we got through some of the safety issues concerning Sparkler wedding send offs, we can discuss actually getting it organized so you and your photographers have the wedding send off you've been planning for over a year!
Putting together the perfect wedding sparkler send off
Putting together the perfect wedding sparkler send off begins with planning it in advance and even doing a walk through with your photographers prior to wedding day. The sparklers only burn for about 3 minutes, so getting all the guests sparklers lit and lined up can be a challenge especially with a large amount of guests. The planning and walk through will allow you to work out any kinks in the plan, so everything goes smoothly at the end of your wedding.
Here is a list of somethings you need to do to put together the perfect wedding sparkler send off:
Put someone in charge of the sparkler send off. Whether its your wedding planner, day of coordinator, member of the wedding party, a friend or family member. Getting everyone line up in two straight lines is crucial.
Have someone handing out butane torches or cigar lighters. Matches and regular lighters aren't going to work. It's also easier to light sparklers with other sparklers, so have several people lighting with torches while others light each other with their already lit sparklers.
Make sure your guests are far enough from each other that sparklers won't touch at arms length. That way when the the signal is given everyone can raise their sparklers at about a 45 degrees over the bride and grooms head as they pass under.
Make sure you plan tour sparkler send off with your photographer so you can plan exactly what you will be doing, when and where. We use black tape to mark the ground in 2 spots for the bride and groom to stop for a kiss good bye and then a dip before getting in there vehicle.
Although this should be at the top of the list. Have some designated to keep everyone well behaved especially if alcohol was served. Sparklers can cause injury by poking along with serious burns.
After the sparkler send off, everyone should push their sparklers into the kitty litter buckets or buckets of water for several minutes before being disposed of.
Wedding Sparkler Send offs by Couture Bridal Photography
As south Florida's leading wedding photography studio offering the most elegant, romantic and timeless wedding photography, we have the experience and know how to capture every special moment and create spectacular scenes for magical moments to take place during your wedding day. We particularly enjoy Sparkler wedding send offs at the conclusion of the weddings we photograph for the spectacular photos we capture during them.
Please contact us for your engagement and wedding photography anywhere around the world. We love to travel and offer the best wedding photography experience whether here in Florida or worldwide, we'll tell your wedding day love story!
ABOUT COUTURE BRIDAL PHOTOGRAPHY
Elegant. Romantic. Timeless. We are a group of creative photographers in Broward County with a passion for storytelling. Founded in 2008, our studio has been recognized as the best Wedding Photographers in Fort Lauderdale and South Florida by various publications, websites, and groups. We'd love to meet with you anywhere in South Florida and show you our albums and other print photography products. We can also provide more information on our Wedding Cinematography and introduce you to our team.




Location: 2425 W Maya Palm Dr. Boca Raton, FL 33432.

Keywords: Boca Raton (110), Bridal Portrait (199), Palm Beach (317), Royal Palm Yacht & Country Club (17), Sparkler Send Off (4).

Fort Lauderdale Wedding Photographer