Couture Bridal Photography explains the process of how we photograph weddings to tell a wedding day love story
As South Florida's most prominent and sought after wedding photography studio, we decided to share what sets us apart from all the other wedding photographers and studios in South Florida. Whether you've chosen us to capture your wedding day, were a guest at a wedding we photographed or looking for a wedding photographer for your wedding and found us during a google search, this will help you understand the whole process to how we photograph a wedding.
For the most part, brides and grooms will find us during a Google search, Instagram or through word of mouth from our past brides. Many times you might be referred to us by just about all the wedding venues in South Florida from Jupiter to the Florida Keys. Since I founded Couture Bridal Photography in the summer of 2008, I have worked diligently to build a reputation for elegant, romantic and timeless wedding photography and the most personalized service offered by any wedding photography studio in the United States with an amazing team of professional and passionate wedding photography specialists.
So to start off the list of how we photography weddings, we first need to discuss out style of wedding photography and how it differs from anyone else in South Florida. Because photography style has the most to do with why brides and grooms hire us, it's very important to properly describe our style and approach to creating our award winning wedding photography.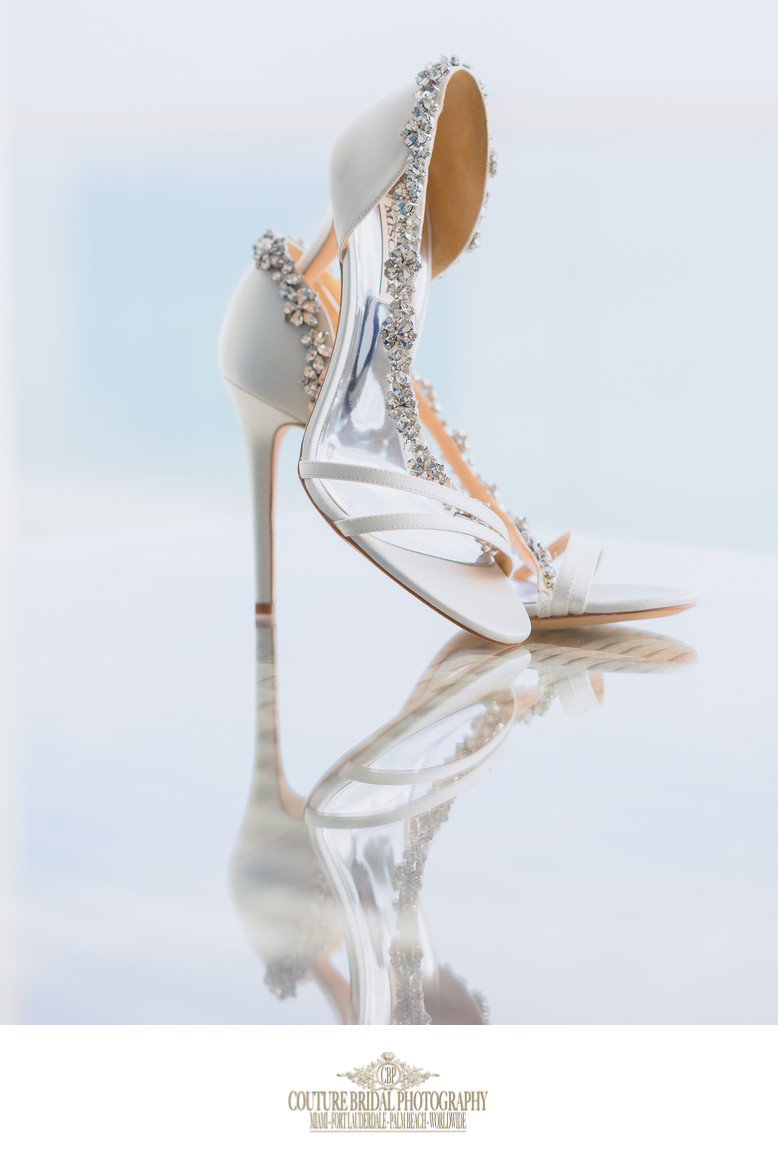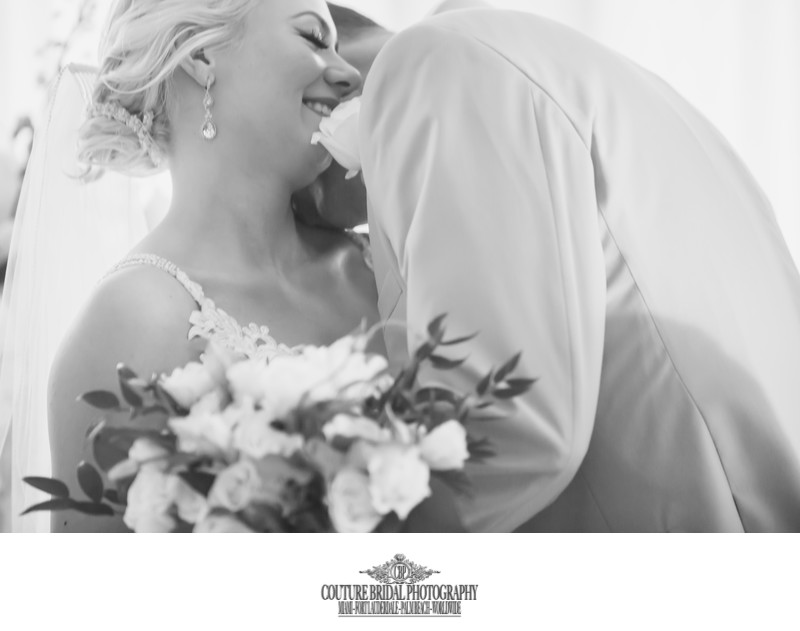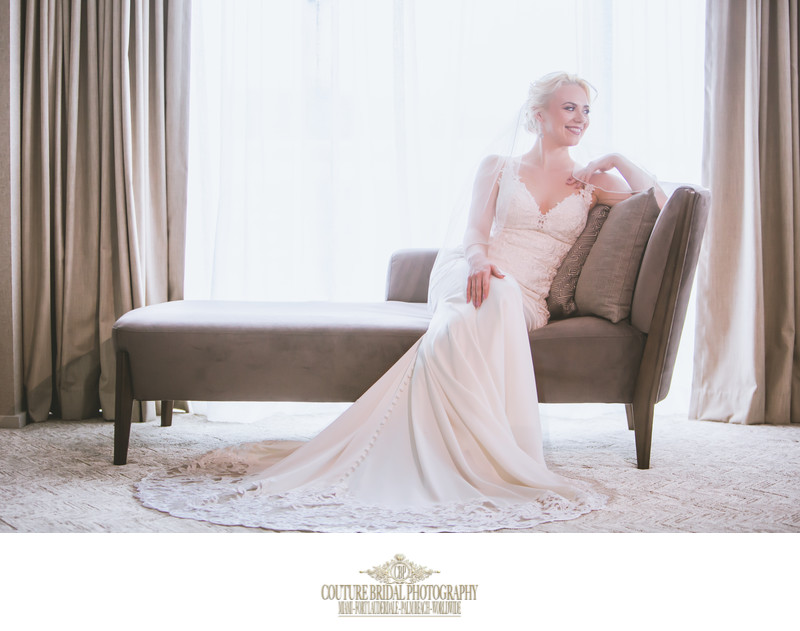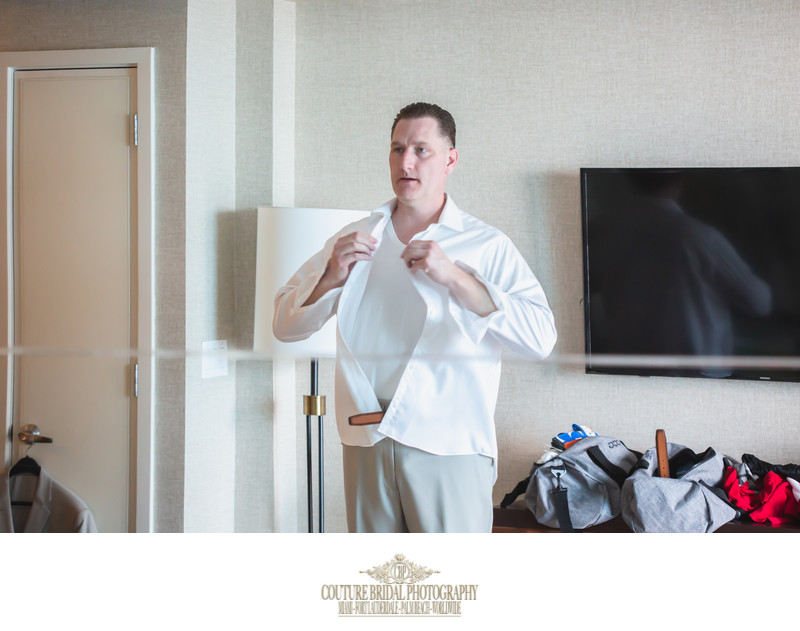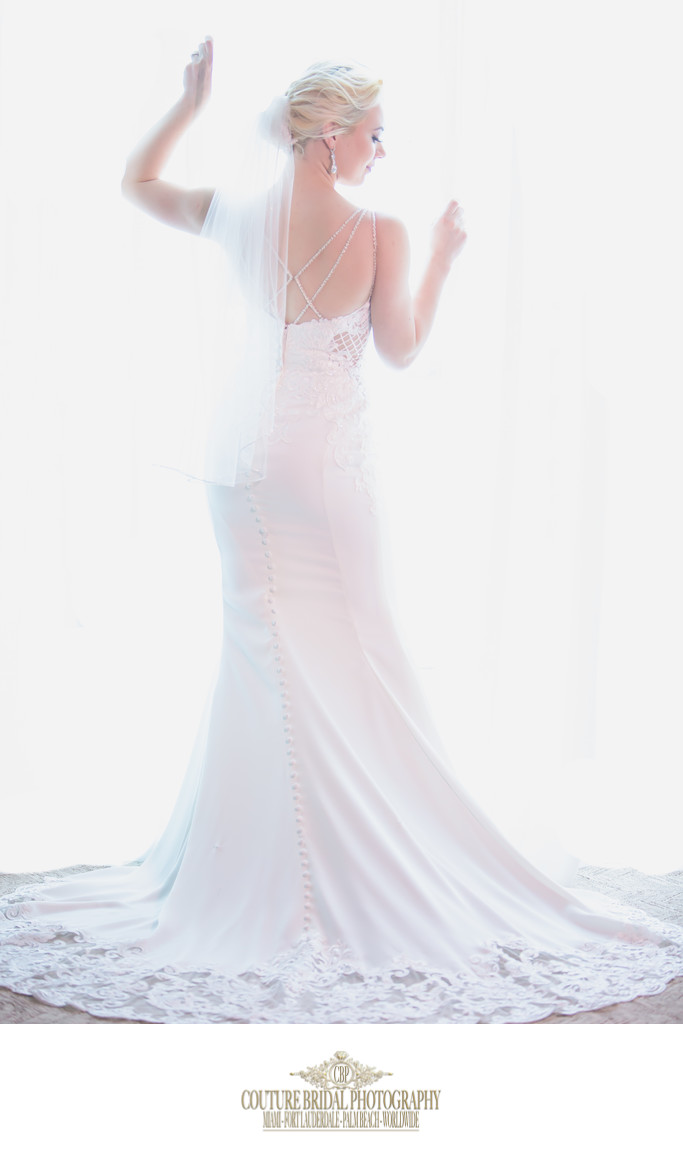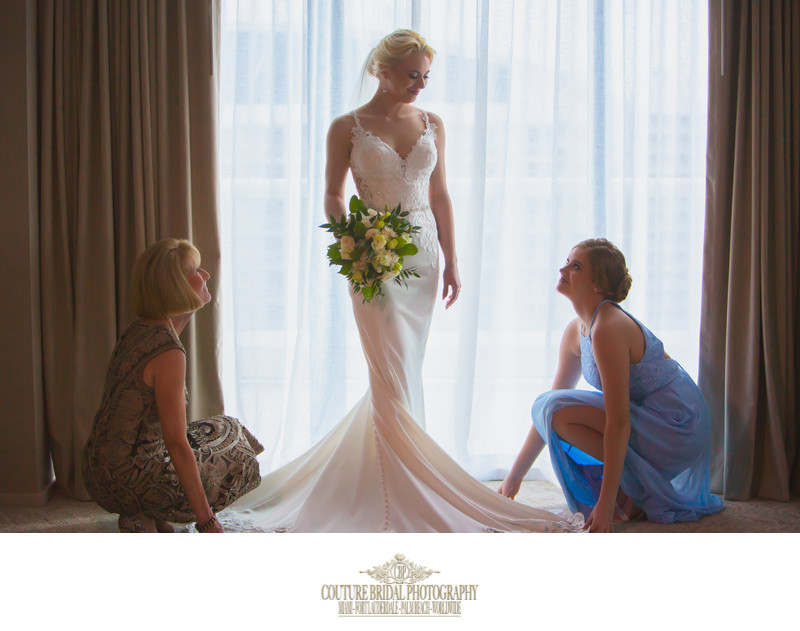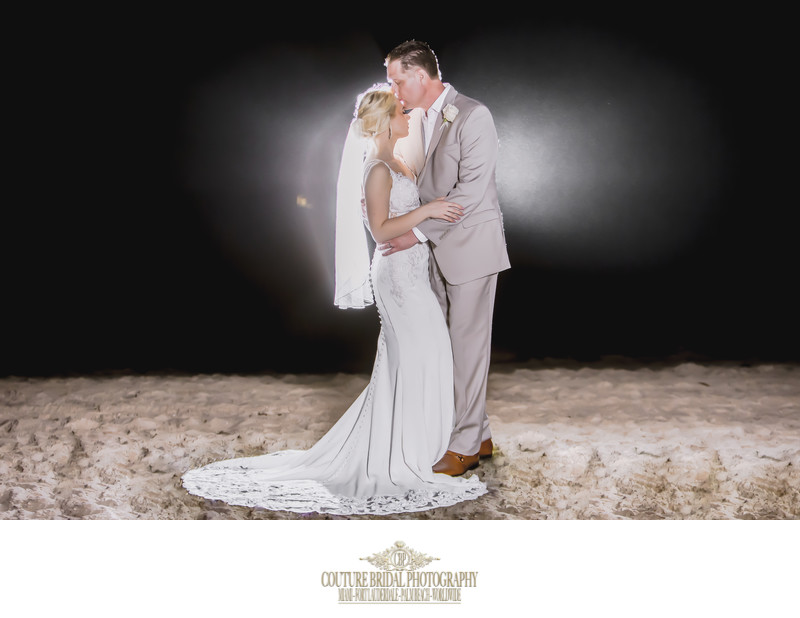 How we photography a wedding - Our Wedding Photography Style
Using the images above from a recent wedding at the Conrad Fort Lauderdale Beach resort as an example of how we photograph a wedding, you'll notice a mix of photojournalism, editorial and illustrative fashion forward photography. You will also see that we incorporate black and white photography for selected images that better convey a message than if they were in color. Another aspect is our natural true to life color, which is based on a classic film look and our ability to create images in complete darkness.
When searching for a wedding photographer, you'll find many photographers identify with a specific style or approach, such as:
Light and airy
Natural Light
Photojournalist
Fashion forward
Dark and moody
Black and white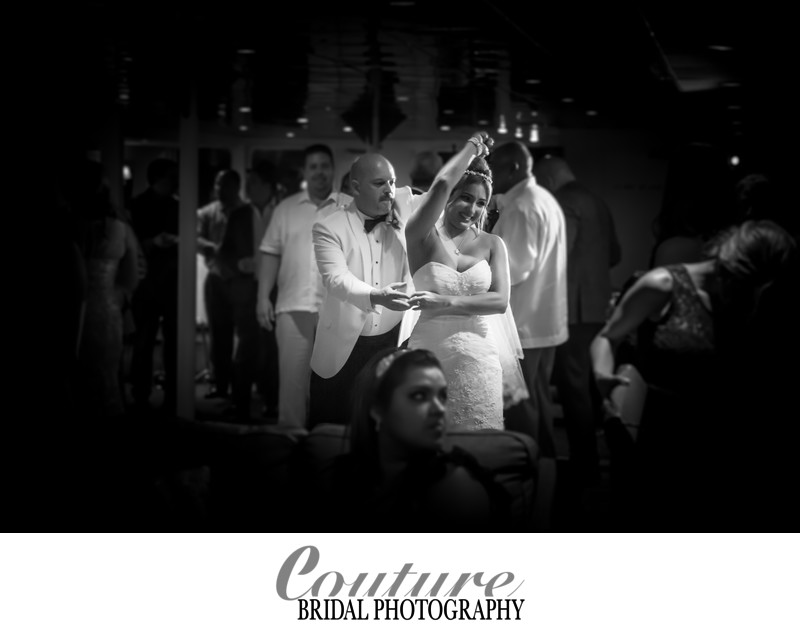 As professional photographers with over 30 years of experience, education and training under some of the worlds best known wedding photographers, we appreciate the diversity in the styles of wedding photography people offer. The reason we do not follow the latest trends and offer a very unique and distinct style of photography is to deliver photographs that are timeless and will look up to date and in vogue 20-30 years or longer from now.
Although couples might find the latest photography trends and styles favorable, the disappointment will come later in time when they look at their wedding photos and they seem dated. Just like bleached jeans that were all the rage in the 80's if you walked around in them now, people would say, "hey, they teleported from the 80's!". Our style and approach to photographing a wedding is to capture and create images that are elegant, romantic and timeless.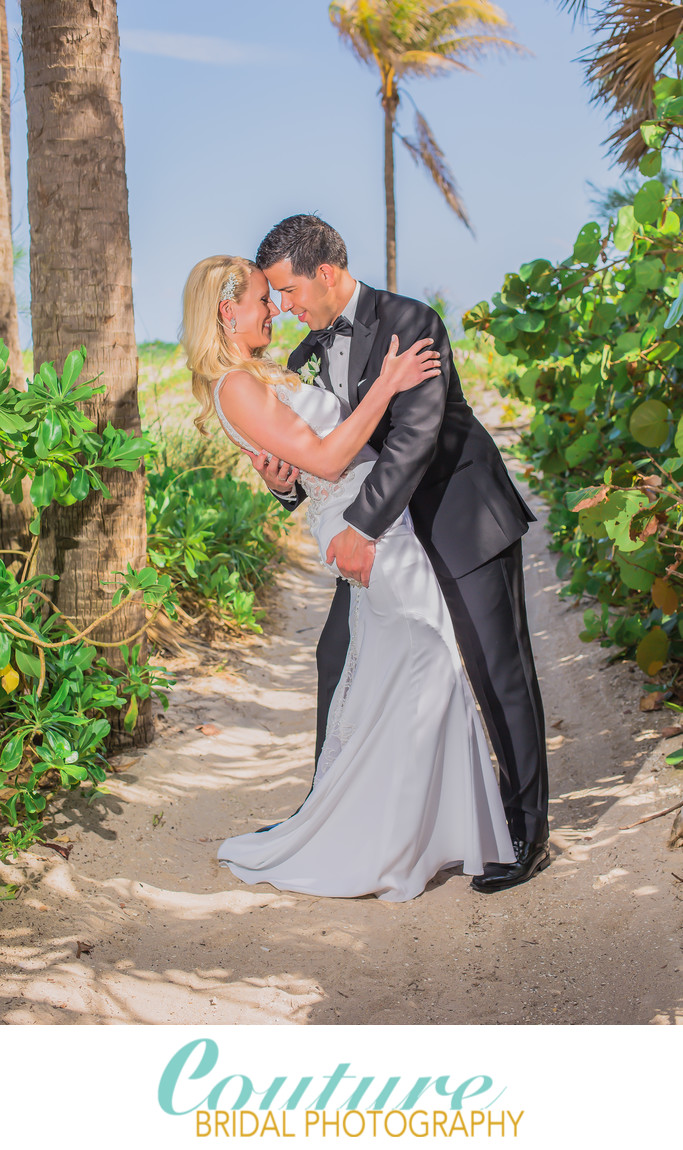 Another approach to our wedding photography style is to approach each wedding and couple as a completely new and individual experience. We don't use shot lists, with the exception of a list for the family formal portraits! If we were to concentrate on a list of photos to create, then we would be way to occupied to capture the natural moments that take place during your wedding that create a wedding day love story on their own. Many amateur photographers and "affordable wedding photography" studios work off a list of image you want and aren't very concerned with telling a wedding day story. They deliver the same number of images to every couple from every wedding that all look the same. For the most part any one could do that, but to tell a story by anticipating special moments and capturing wedding day details as if you were writing a novel, but with beautiful images is the different between a photographer and artist and amateur and professional.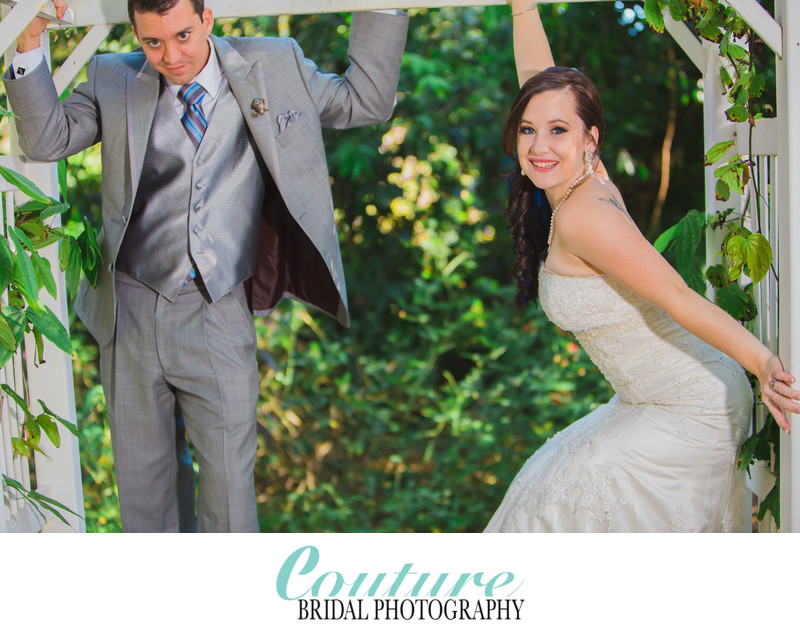 Now that we explain a bit about our style, the other important aspect of hiring the perfect photographer to photograph your wedding is our approach. A lot, and I mean a whole lot of people are buying really nice cameras that look professional and offering wedding photography without the tools they need to truly photograph a wedding let alone under poor lighting conditions. Now this might not apply to you, if you are planning an early morning or afternoon wedding and reception or a small wedding during the day on the beach, but if you are planning a wedding at a church or venue that lasts into the night could very well pose an issue. A lot of amateur photographers advertise as "natural light photographers", which means they only use the light available to them by essentially the sun. The problem with this is obvious, if there isn't sufficient light to expose and image, either the image will be dark or incredible grainy and useless. Selecting a natural light wedding photographer for your late afternoon wedding with a night reception in a ballroom will be a huge issue for someone that only uses the sun. The words "natural light photographer" to many professionals really means, "don't know how to use flash"!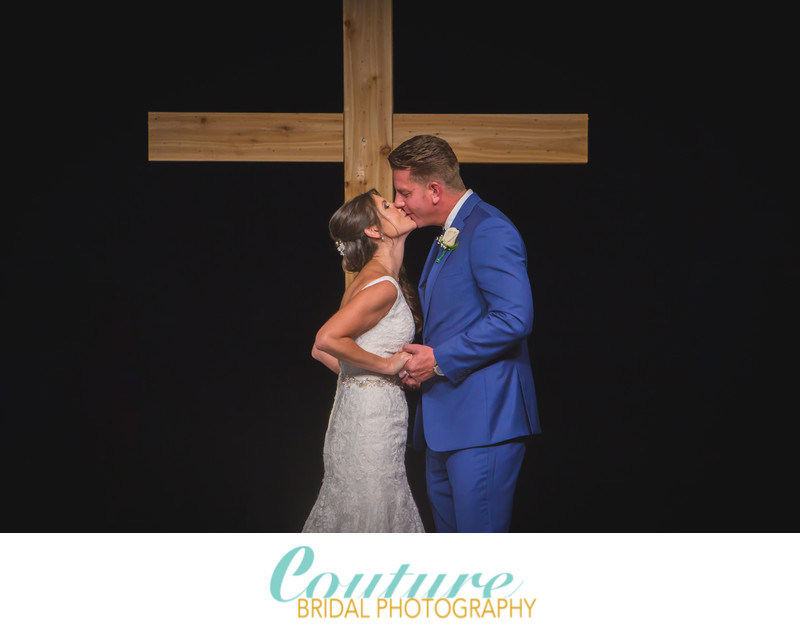 As professional wedding photographers who've so far have photographed over 500 weddings in every possible lighting or lack there of and weather conditions use a variety of professional lighting tools. We can light up the desert at midnight for ours with our lighting and we are proud of it. We utilize natural light and when there isn't enough or the right kind of light, we'll create the light we need anywhere at any moment. We also use the latest and finest Canon professional full frame cameras and professional upgrade computers, software and storage to deliver the highest quality images humanly possible!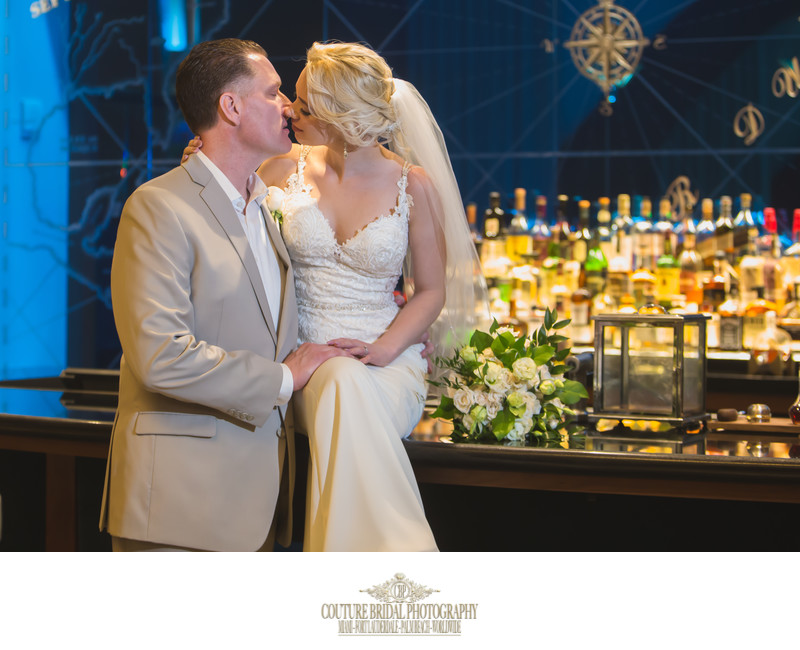 How we photograph a wedding - The Booking Process
Most clients will find us via our website on Google or Bing. When they find our website they will look at our images and use our contact page to reach us. Some also choose to call us directly. Once a potential client uses our contact form to reach us, they will receive an email containing a questionnaire. The questionnaire helps us by letting us know the date and time of your upcoming wedding, the location and the basics of what you need or want. Once we have this information we will contact you to discuss the details and inform you of all the photography services we offer. It also allows us to tell you about our hair and makeup artists that provide amazing wedding day styles.
Once you we have all the details we provide you with a quote and contract along with an invoice which a retainer of 50% must be paid with the balance to be paid 14 business days before you wedding celebration. Some couples may choose to take advantage of our interest free wedding photography payment plan to help ease the financial stress of planning a wedding. Once the wedding photography contract and retainer is paid, we begin assisting you with your wedding day timeline and schedule meetings at your venue to do walk throughs and visualize your wedding day.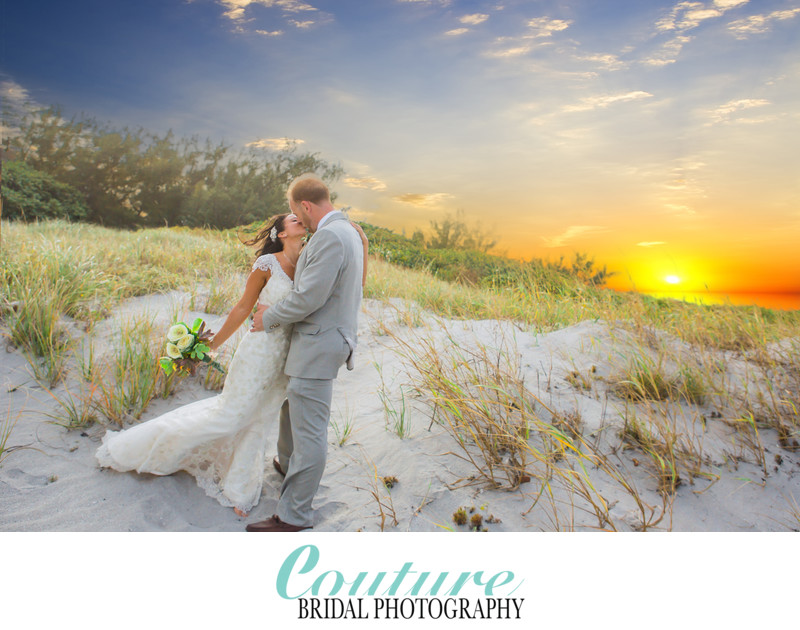 How we photograph a wedding - Wedding Photography consultations and walk through
During the time from when you've officially hired us to photograph your wedding to the wedding day, we will be in constant communication via phone, text and email to always be on the same page regarding your wedding day timeline and any changes that commonly take place prior to your wedding. About 2 weeks before your wedding day, we will meet at your ceremony and reception venues and complete a walk through. During this time we will pre-plan locations for your bridal portraits during the cocktail hour and scope out locations for the best scenes.
The wedding photography consultations and walk through are an important element to professionally capturing a wedding and providing the best wedding photography service.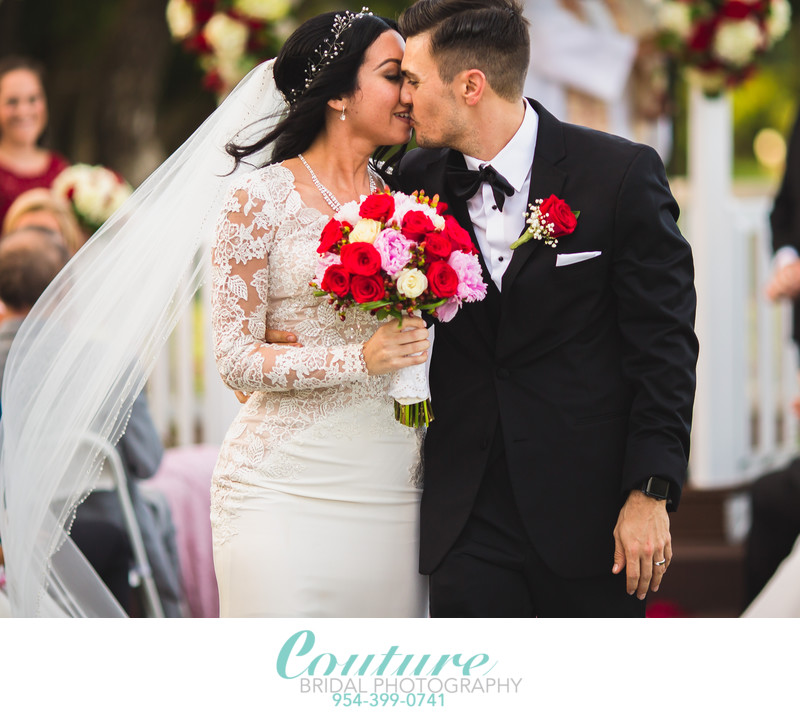 How we photography a wedding - Wedding Day Photography
Our approach to photographing your wedding begins with arriving early at our first planned location, which is usually where the groom and groomsmen will be getting ready. We will photograph the groom and groomsmen as they get ready and create some images by setting the scene for moments to take place. The grooms photos will highlight the groom, his attire and his interaction with the groomsmen and his parents. We will photograph wedding rings, boutonnières, cufflinks and shoes.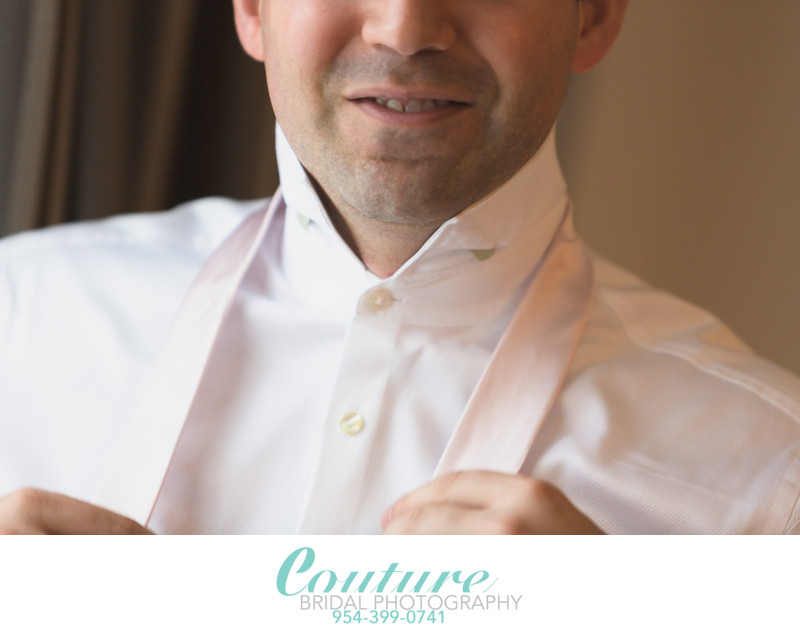 Once the grooms and groomsmen are photographed, we will go to the brides location where our professional hair and makeup artists will be working with the bride, bridesmaids and mothers of the bride and groom. We have the absolute best south florida hair and makeup artists for your wedding day! Once we are with the bride we will photograph her dress and accessories. From here on out we will stay close to the bride capturing the wedding day story as it happens. A second photographer will be doing the same with the groom and groomsmen.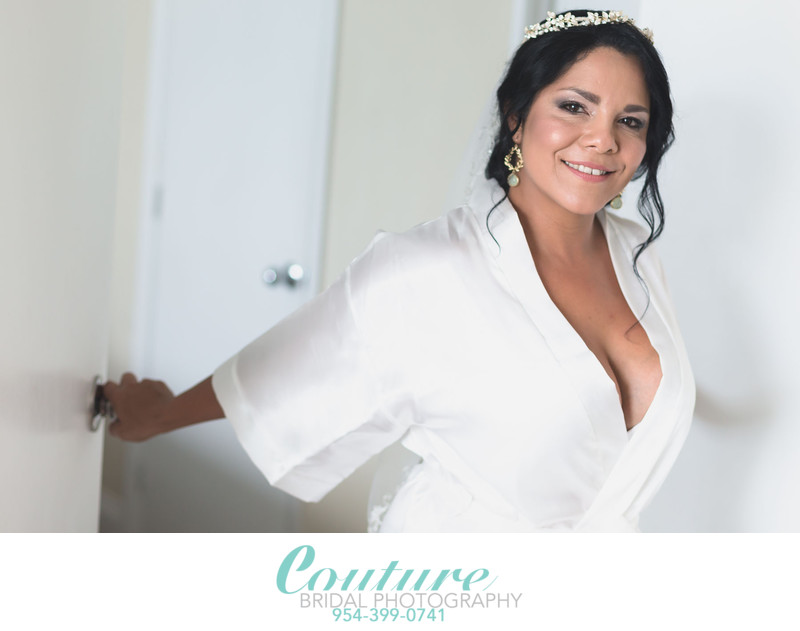 Right before the ceremony we will set up where we will be photographing the ceremony from and work out all the angles to capture every touching moment throughout your wedding nuptials. We will capture both the bride and grooms from various angles moving silently and swiftly to avoid distracting your guest during the ceremony.
Upon the ending of your ceremony we will begin the process of photographing the bridal party and family in various combinations with the bride and groom. This typically takes about 10 minutes and then we go to the previously selected location for beautiful and dramatically captured bridal portraits. Upon the completion of the bridal portraits the bride and groom will go to either the cocktail hour to greet friends and family or go somewhere to be alone and freshen up a bit before the grand entrance to their wedding reception.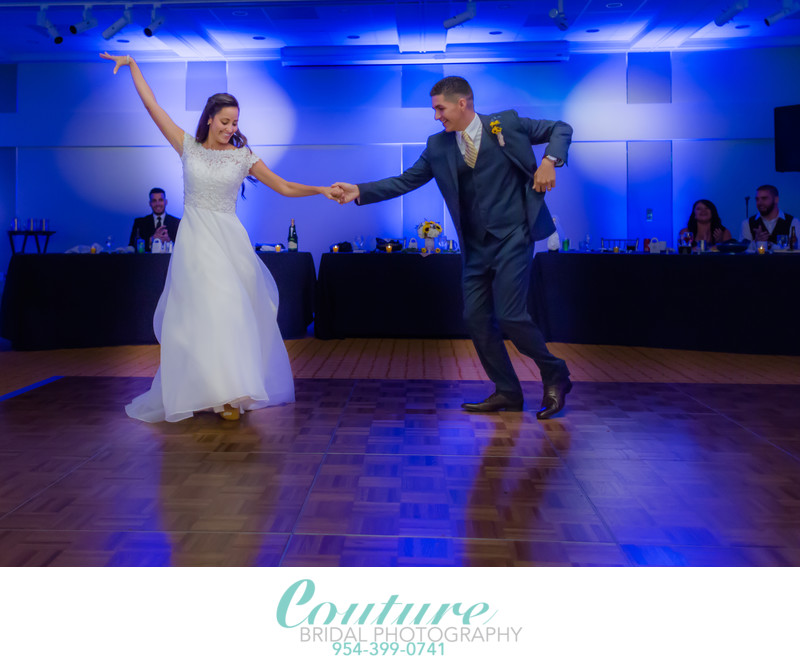 While the bride and groom are mingling or relaxing, we will be setting up our lighting in the ballroom for your reception. We will photograph your wedding party as they are announced and of course the bride and groom. As the first dances take place we will dramatically light our couples to capture and create the most stunning wedding images during your reception. From this point on we will photograph the toasts, cake cutting and reception details such as seating chart, gift box, signing book and your guests as they party and have a great time at your wedding reception.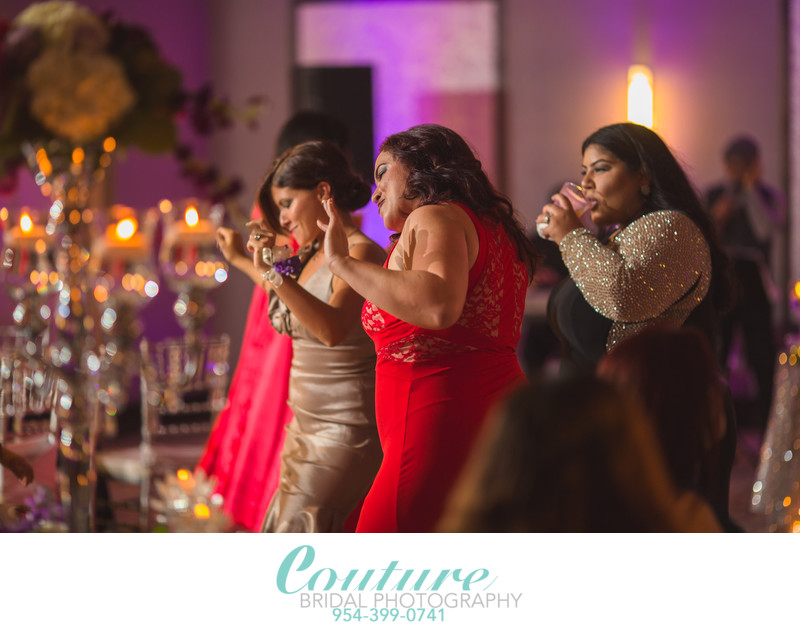 If you are planning for a formal exit with sparklers we will set up where you will be eating and photograph your sparkler exit and then as you depart in your limousine.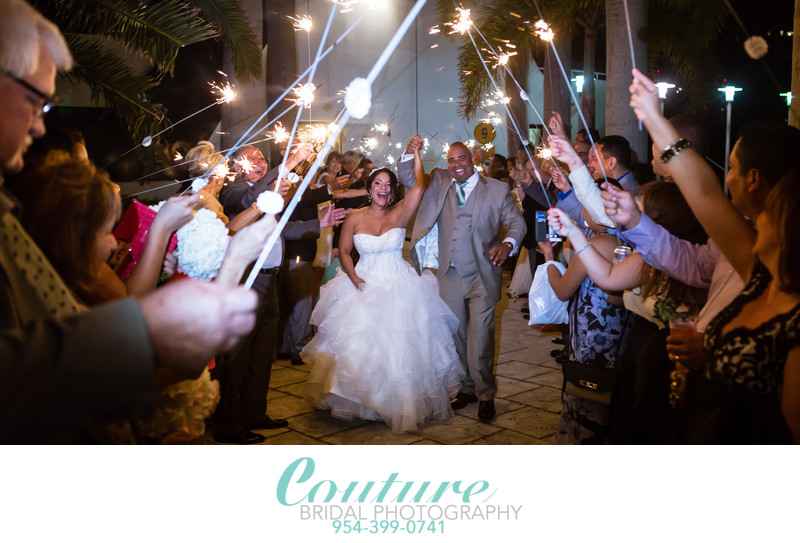 ABOUT COUTURE BRIDAL PHOTOGRAPHY
Elegant. Romantic. Timeless. We are a group of creative photographers in Broward County with a passion for storytelling. Founded in 2008, our studio has been recognized as the best Wedding Photographers in Fort Lauderdale and South Florida by various publications, websites, and groups. We'd love to meet with you anywhere in South Florida and show you our albums and other print photography products. We can also provide more information on our Wedding Cinematography and introduce you to our team.

Location: 2809 S Ocean Blvd. Highland Beach, FL 33487.

Keywords: Black and White (24), Delray Beach (80), Delray Sands Resort (8), First Dance (36), Palm Beach (317), Wedding Reception (70).

Fort Lauderdale Wedding Photographer